You Should Check Used Goods For Recalls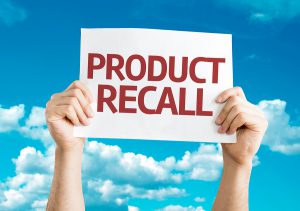 Michael Babboni

Recalls Bargain hunting is something that everyone understands, especially when it comes to used goods. There's something gratifying about finding that perfect gift, or useful item at an extremely low price, simply because, despite the fact that it works fine, someone else doesn't want it anymore. Whether it's antiques, or bargain hunting, there's a natural impulse on the part of people to enjoying discovering a good deal.

But, as with any activity, for all the good that comes from bargain hunting and garage sales, there may be some bad. This was perfectly illustrated in March of 2014, when Sophia Justice age 5, of Houston, Texas, was injured by a new toy.

The toy wasn't actually new. It was an Easy Bake Oven, which had been bought used. The toy was a miniature oven for children that allowed them to make small, bite versions of desserts like cupcakes and cookies. What Sophia's parents were unaware of, however, was that this particular toy had been the subject of a product recall.

In 2010, it was found that this particular model of the toy had a glaring design flaw. The slot that children placed and removed their baking products could trap a child's hand if they didn't use the provided accessories. If they had turned the oven on, it could literally bake their fingers. Hasbro, the manufacturer of the toy, instituted the recall, urging all families to return the defective toy. Obviously, however, the company has no constitutional right to force itself into homes searching for these toys and confiscating them, so when this toy ended up on Sophia's hands four years after the recall, it was because whoever originally purchased it did not participate in the product recall. In such a case, it's very difficult to take the company to court since they did everything they were legally required to do, and can't be held accountable for the actions of an individual that decides to ignore a product recall.

But that doesn't mean families can't protect themselves. No one expects parents to diligently scan industry reports to find out which products have undergone a recall for safety reasons. Fortunately, parents don't have to. The government itself provides a website, recalls.gov that allows anyone to see which products have been compromised in some way. If you are wondering whether that bargain hunting find might have a built-in design flaw, the fastest way to find out is checking the list of recalled products to see if it's there.

It's also important to note that product recalls don't always make the front page of the news, especially if they're not considered harmful. That doesn't mean, however, that you don't have any legal options if a product you purchase in good faith does not work as advertised. As a consumer, buying a product entitles you to certain rights, and you always have legal recourse when those rights are violated. If you think this has happened to you, thestpetelawyer.com is here to listen and advise..