Slip and Fall Lawyer St Petersburg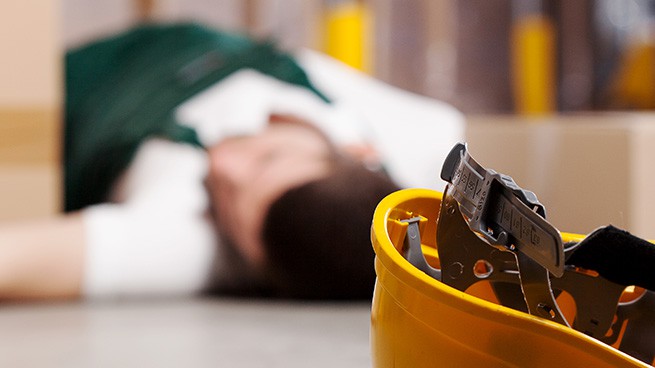 At Goldman, Babboni, Fernandez and Walsh, we pride ourselves on providing a wide range of representation for anyone in Florida who has been injured in an accident of any kind. And while the majority of accidents that occur within the state are related to auto accidents, slip and fall accidents are also a common issue that we see in our firm.
Slip and fall – also known as premises liability – is a specific type of accident that stems from trips, slips, falls, and other types of accidents that are caused by unsafe conditions on a jobsite or property. These accidents can lead to a number of injuries including many that are very serious, and as a result could lead to high medical bills and other financial hardships.
However, Florida slip and fall laws are complex and confusing at times, and it's among the hardest type of personal injury case to find success with. Our team has years of experience in handling these types of cases and in getting results. If you've been injured in a slip and fall accident, contacting our offices could be the first step towards the compensation that you deserve. It's still a good idea to learn more about these injuries and these types of lawsuits, of course.
Why Should You Work With An Attorney?
While it's important to find a good lawyer for serious injury compensation cases in any type of accident situation, it's even more important to find one when your injuries were caused by a slip and fall accident. The biggest reason is the difficulty and complexity involved in these types of cases.
Under Florida law, premises liability cases can relate to any type of injury caused by unsafe conditions on a property. This ranges from slick spots on a floor to unsafe handrails and beyond. However, what must be proved is that negligence was present from the property owner or manager.
For example, if a spill occurs in a store and you slip on it and are injured, you could have a case. But in order to succeed at getting some form of compensation, we must prove that the property owner or manager actually knew that the spill existed and that they chose to do nothing to clean it up or to warn people of its danger. If they didn't know the spill was present, they can't be held liable.
Additionally, there is the question of 'reasonable knowledge'. Essentially, if a reasonable person would know that a condition was hazardous, a property owner won't be held liable. For instance, if you slip on a sidewalk that is wet it isn't going to usually be the property owner's fault since you should know that the water could be slippery.
You need to work with an attorney in order to figure out whether or not you have the grounds to seek financial compensation for your injuries and to ensure that you're able to get some kind of compensation. As you can see, it's often much harder to do with premises liability cases than it is with other types of accidents, and finding a lawyer for serious injury caused by these accidents is your best bet for getting the best results.
Why Choose Us?
Our law firm has built a track record of success in the personal injury field. Our team of lawyers has more than 100 years combined experience practicing personal injury law throughout Florida. With law offices throughout the state including in St. Petersburg, we're able to draw from a wide pool of knowledge, experience, and experts to help ensure that your case is handled the best way possible. Here's a look at some of the other reasons you should trust our team.
We work with a variety of experts in numerous fields including physicians, accident claims adjusters, private investigators, and more in order to ensure that all the information in your claim is 100% accurate and backed up by the best in their fields.
We believe in focusing on each claim individually in order to ensure that it's handled in the best way possible.
We offer free up front consultations to determine whether or not you have a case. If you do, we'll happily provide you with representation.
Our attorneys believe in making a difference in the lives of those they help and in their communities. For instance, attorney Michael Babboni has served on the St. Petersburg Chamber of Commerce in the past and continues to be active in the area.
Thanks to our decades in the personal injury field, attorneys and insurance companies alike know our reputation. They know that we're willing to take a case all the way to court in order to get what is fair for our clients. As a result, they'll often opt to settle out of court first, getting you your money faster and with less hassle.
Simply put, our team focuses on making sure that your case is given the fullest attention possible. We get results quickly and ensure that you are able to focus on your recovery instead of on money troubles. Contact us today to learn more about what we can do for you.
Types of Lawsuits
There are a number of different types of lawsuits related to premises liability. At its core, the term simply refers to the responsibilities a property owner or manager has to maintain a safe environment for those on the property. Most cases are essentially cases of negligence, and can include things like:
Workers Compensation
Slip and Fall
Sidewalk Trips
Stairwell accidents
Improper Signage
Swimming Pool Accidents
Amusement Park Accidents
Dog Bites
Poor Lighting
And more
Essentially, our responsibility is to determine the cause of the accident and what type of lawsuit to pursue. We'll review your case and determine how best to proceed. How Is Compensation Calculated?
Florida personal injury law compensation is based on a sum that is reached by considering a wide range of different financial factors related to your injuries. These include:

Any medical expenses related to your accident
Potential future medical expenses as estimated by experts
Lost wages due to time away from work, as well as potential lost wages throughout the future do to your injuries. If you are disabled or unable to continue working, this sum could be quite large
If a wrongful death suit is being pursued, any funeral costs will be included as well
Punitive damages are used to punish the responsible party and are awarded at the discretion of the judge or jury
Pain and suffering can also be calculated into the total, based on the level of physical and emotional suffering you've endured as a result of your injuries. This too is often subjective and determined by judges and juries at their discretion.
If you're offered an out of court settlement, the factors above are also used by our experts to determine whether or not you are being offered a fair amount for your injuries. Of particular importance is the future expenses you could incur, and our experts will help us determine that.
Frequent Accident Causes
Premises liability may often be called 'slip and fall' law, but the reality is that these types of lawsuits can be caused by a huge assortment of issues. These include:

Hidden cords
Wet floors
Inadequate warning signage
Poorly secured pool area
Unsecured rugs and carpets
Poor security
Bad lighting
Spills
Dirty floors
Improperly maintained equipment
Loose handrails
Defective staircases
Improperly restrained pets

It's important to remember that any of the issues above could cause an accident, but that doesn't necessarily mean that the property owner can be held at fault. For that, it must be shown that they knew about the issue and willfully chose not to do something to correct it. Our team understands that each situation is different, and we'll work hard to prove that you're owed compensation depending upon the specifics of your slip and fall case.
Common Injuries Caused By Slip And Fall Accidents
Slip and fall accidents can lead to a wide range of injuries – some severe, some minor. But all of those injuries will come with potential financial difficulties, and as such it's important to take any injury seriously. After speaking with a medical professional, you should contact a lawyer to ensure that you are able to get the compensation you're owed. Some of the more common injuries we see among our clients include:
Muscle damage
Broken bones
Lacerations
Burns
Bites
Traumatic Brian Injury
Spinal injury
Permanent disability
Wrongful death

Different types of premises liability accidents will have different injuries, and could require different steps not only to heal from, but to recover from financially.
If you've been injured in a premises liability accident, you owe it to yourself to seek compensation for your injuries so you aren't left footing a major medical bill for injuries you aren't fault for. Our team can help. Contact our offices to get a free initial consultation and find out more about your rights and what options you have available to you.