Motorcycle Accident Lawyer St Pete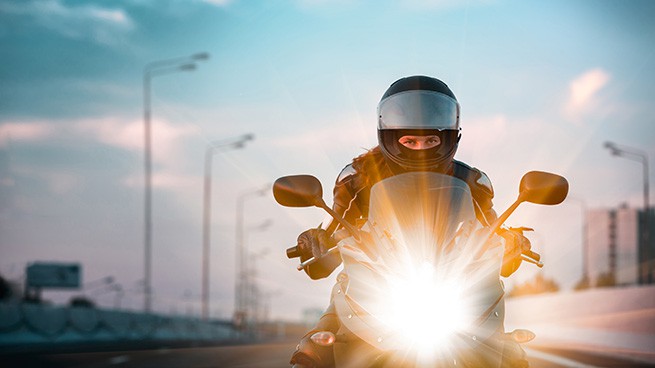 Accidents can be caused by a very wide range of sources, but many of the most serious injuries we see at the law offices of Goldman, Babboni, Fernandez and Walsh stem from motorcycle accidents.
It can be difficult to recovery from the injuries sustained in these accidents not only because they can sometimes be severe, but also because of the large financial burden car accidents can place on victims. As a result, finding a lawyer for car crash injuries is important.
We understand how difficult it can be to recover, and that's why our experienced team works hard to provide you with results quickly. Under Florida law, a number of confusing regulations and rules can make it harder to even file a successful claim with an insurance company, and when you begin pursuing litigation against the other party involved in the accident it can become even more complicated.
Proving fault and proving that you deserve compensation for your injuries can be difficult, and we're here to help. Understanding more about the subject can make it easier to see why you need our help. And once you're ready to get the representation that you deserve, don't hesitate to contact us.
Why Should I Trust In An Attorney?
It can be tempting to try to get compensation on your own – especially if you're already being offered some kind of cash settlement. But the reality of the situation is that it's always better to trust in an attorney to help you with your case. There are numerous reasons that using a lawyer for car crash personal injury cases is important, including the following:
First, consider that settlement you may be offered. Insurance companies and other organizations often offer cash settlements out to victims in order to quickly end a case. When they do, however, they'll offer a low amount in the hopes that you take it and ruin your chances of ever pursuing further compensation. With a lawyer on your side, you will be able to know when you're being offered a fair amount and when you're being offered a low figure.
Settlements aren't always offered, either. In fact, in most cases if you're trying to represent yourself there's a good chance the other side will do all they can to head to trial. The reason is simple – their experience and resources means that a trial is far more likely to end in their favor. But when you have a skilled attorney on your side it becomes much more likely that you'll be offered a settlement that is fair since they won't want to head to trial.
The unknown can be terrifying, and not knowing what to expect from your case can make it harder to relax and focus on recovery. A good lawyer will explain to you exactly what you can expect from your case. They'll let you know whether or not you even have a chance at getting compensation, and then help you know how long it will likely take to reach a settlement.
The results you get from using an attorney are always better, too. Not only will you be more likely to get a good settlement amount, but you'll also be able to get a settlement offer faster.
In short, a good attorney will take away the hard work that can be stressful for you and will handle the job of getting you what you're owed while you focus on healing from your injuries. We help you pick up the pieces and move on with your life after an accident, and that's important.
Why Trust Us?
We understand that you have a choice when it comes to which attorneys you use for your case, but there are numerous points worth looking at that should highlight exactly why we're the best option for you to use. We believe in providing the highest level of representation to our clients and in getting them the results they deserve.
Here's a look at why you should trust us with your personal injury case.
Our law firm has built a reputation over the years as being one of the best, most aggressive, most reliable personal injury firms in the state. Because of this, insurance companies and other attorneys know that we aren't afraid to go all the way to trial to get our clients what they deserve. They're much more willing to offer a fair settlement amount when they see our name on court documents.
We have more than 100 years combined experience working in personal injury law in Florida. That kind of experience means that we can get you results.
We focus on an individualized approach to each case instead of a cookie cutter formula. We look at your case closely to ensure we use the tactics needed to get you what you're owed.
We don't lead you on, either. Our free initial consultation is designed to explain whether or not you have the grounds to seek compensation, and we will tell you exactly what to expect from the process.
We won't charge you until your case has been settled. We know you're already struggling with financial burdens due to your injuries, and won't add to that burden in the least. Our fees are deducted from your settlement amount.
We've helped countless Florida residents get the compensation that they're owed, and believe in making a difference in our communities as well as in the lives of those we represent. We work hard to maintain our reputation, and believe that you'll see that firsthand when you trust in us.
Types Of Law Suits
Personal injury law related to motorcycle accidents can cover a lot of ground, but in most cases there are three main types of lawsuits that we see time and time again. These are:
Negligence or Recklessness – This is the most common of the three, and covers practically any kind of driving that could lead to an injury or accident. If the other party involved in the accident was drunk, texting, speeding, or driving in an unsafe manner, you may have this type of case. The key is proving that they acted in an irresponsible manner and that their actions led directly to the accident.
Manufacturer Liability – If faulty equipment or construction of your vehicle is the cause of your accident, this is the type of suit you'll have. A good example of this is the auto recalls over the last several years. When part of a vehicle fails to operate correctly, the manufacturer could be held liable.
Road Design – This is the rarest of the three, but does still happen. Essentially, these cases focus on proving that an engineer or road crew designed and built a road in a way that added unneeded safety issues – or that they failed to install warning signs about the dangers.
How Is Compensation Calculated?
A few different things go into the process of calculating your potential compensation. Each one is factored into the total sum of what a judge or jury may award you if the ruling is in your favor.
The primary factors include:
Medical expenses related to the accident
Future estimated medical expenses
Lost wages due to injuries
Potential future lost wages
Punitive damages
Pain and suffering
The last two are subjective, and could be any sum that a judge or jury determines is fair. As such, most insurance companies will try to settle out of court. If so, the factors above are still used by our team to determine what a fair settlement amount for you is. By using experts in various fields, we can determine what kind of compensation is fair for your injuries and then explain to you why we feel a settlement amount is fair – or why we don't.
Frequent Accident Causes
There are numerous potential causes of automobile accidents in Florida. While uncontrollable factors like weather may play a part, the following causes are the ones that generally mean you could seek financial compensation for your injuries.
Drunk driving
Distracted driving
Texting while driving
Truckers driving too long
Faulty parts in a vehicle
Poor road design
Speeding
And more
Each cause could have its own method of proving fault in a court, which is why our lawyers review each case before determining how to proceed.

Common Injuries Cause By motorcycle Accidents

We represent a wide range of clients who have suffered a number of potential injuries as a result of their accidents. Some of the most common types of injuries we see include:
Spinal injuries
Traumatic brain injury
Whiplash
Broken bones
Paralysis
Wrongful death
Lacerations
Burns
Lost limbs
And more
Obviously, some of these injuries are more severe than others. But each can have a direct impact on your life and on your finances. That's why it's so important to seek help when you're injured in any type of automobile accident.
Our attorneys understand that you deserve help, and we're ready to give it to you. If you've been injured in a car crash and don't know what steps to take, contact us today for a free consultation.