Woman Dies After A Five Car Pileup In Pasco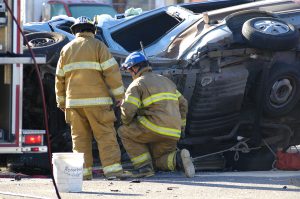 Michael Babboni

Car Accidents Car accidents happen more than we care to admit. Florida especially is known for its larger than average amount of car accidents. In 2014 alone, there were 2,336 reported fatal crashes and that number has continued to increase since then. If that wasn't unnerving enough, the National Highway Traffic Safety Administration has stated that two out of three drivers will be involved in an auto injury accident at some point during their life.

It is not news to anyone that driving is a dangerous activity. While seatbelts and airbags have done wonders to help protect drivers from fatal injury, the amount of drivers on the road has greatly increased the number of deaths and accidents by a large margin. In fact, it can take only a small mistake on the road for it to cost the health and lives of others. Unfortunately, that is exactly what happened.

An Auto Accident In Pasco

According to the Florida Highway Patrol, a five car pileup in Pasco was caused after a single car failed to stop and has caused the death of one woman and sent two other drivers to the hospital.

In Wesley Chapel, 38 year old Stephanie Lance Nicholas died after another driver slammed into the back of her vehicle on an Interstate 75 exit. The Florida Highway Patrol reported, that she was stopped in the right turn lane leading into the State Road 54 when a Ford SUV driven by Jason Pleaz Edwards crashed into the back of her Mercedes. The impact of the collision pushed the Mercedes into a 2007 Mazda 3, which resulted in a chain-reaction crash involving two other cars. After the crash, Edward's SUV was overturned while the other cars had spun.

Stephanie Nicholas was taken into the Florida Hospital and died later that day of her injuries. The driver of the Ford, 34 year old Jason Pleaz Edwards, has also been taken to the same hospital and has sustained serious injuries from the crash.

31 year old Heather M. Stillman who was driving the Mazda has also been taken to the Florida Hospital for minor injuries. The other two drivers were treated at the scene. Any charges in the case are still pending, but they do know that it was not alcohol related.

What You Can Do To Stay Safe On The Road

While these results can be rather scary, it doesn't mean you should avoid driving all together. Though the increased number of drivers has brought an increased number of auto accidents with it, there are many ways that driving conditions have been improved to reduce your risk of harm including better roadways and improvements in vehicle design. However, the best thing you can do is to always stay alert on the road and pay close attention to those around you, especially in high traffic or speed areas like highways.

Getting The Legal Help You Need After An Auto Accident

If you have been in a car accident in the St. Petersburg area that has left you permanently disfigured, with a permanent injury or worse, has caused the death of a loved one, it may be time to seek professional help.

As if the car accident was not traumatic or stressful enough, the medical or funeral costs can be bad enough to put some in debt for years. No one should have to go through that while you should be recovering or grieving. That is why you should not hesitate to get the financial compensation you need to recover without fear of debt.

Contact the law offices at St. Petersburg today so you can begin your case on the right track and get a free review of your case. Our legal professionals have over 27 years of experience with personal injury claims and car accident law to ensure that you get the justice and compensation you deserve. No one should have to suffer through debt on top of an auto accident and we are dedicated to making sure you never have to.