Why You Should Hire A Lawyer After A Car Crash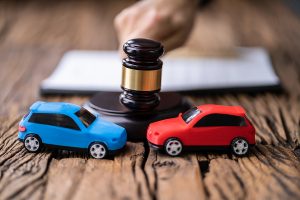 Michael Babboni

Car Accidents Getting into a car crash can have life changing consequences. A serious car accident can cause crippling financial burden to the parties involved as medical bills and car repair costs need to be paid. What you do after such an unfortunate accident can significantly impact your chances of getting adequate compensation for personal injury and damages.

Car accidents can be traumatic however, and the last thing you want to do is to fiddle around with legal procedures and insurance complications. To help you through such a stressful time, one of the best things you can do is to hire legal counsel. In this article, we'll talk about the kinds of situations where you'd really want to hire a professional attorney, and the advantages of having legal counsel after an accident.

When Do You Need To Hire An Attorney

Ideally, you'd want to have legal counsel available to you in case of any car accidents. While a few people may choose to do without a lawyer for minor accidents, having an attorney is absolutely necessary if you ever find yourself in the following situations:

• Major car accidents where parties sustained serious injuries or passed away
• Your injuries prevent you from working and require you to undergo ongoing medical treatment and care
• Multiple parties were involved in the traffic accident
• You got into a car crash with an uninsured motorist
• You need to gather evidence about the accident to sue for compensation
• You need to settle out of court and have upcoming discussions with insurance representatives or other parties to the accident
• A certain period of time has elapsed since the car accident

It's understandable how people may be averse to hiring a lawyer, because they want to avoid legal service fees. However, you may find yourself incurring more financial loss if you don't have access to legal representation in the abovementioned situations.

To ease your concerns over paying potentially expensive lawyer fees, keep in mind that most attorneys work on a contingent-fee basis. This means they only get paid when they successfully resolve your case. Therefore, lawyers are incentivized to get the best compensation package they can for you. Should they be successful, you needn't be too concerned about legal fees.

Attorneys Know The Ins And Outs Of Legal Proceedings

Laws pertaining to personal injury arising from car accidents can be complicated. One major argument for hiring a lawyer after a car crash is that they can guide you through legal procedures and explain how certain laws can affect your case. Lawyers have the experience and knowledge to identify problem areas that may hurt your chances of getting a good settlement. They can anticipate such legal obstacles and help you prepare for them in advance.

If you're involved in a case where another party is suing you for compensation, it's definitely a must to have your own lawyer. In this case, your lawyer would be able to help you negotiate with the other party and come to an agreeable and fair settlement.

An Attorney Can Help With Tricky Insurance Claims

Unfortunately, it's not unheard of for some insurance providers to void personal injury claims. They may deny your claim by arguing that the accident was your fault, thus voiding their responsibility to compensate you accordingly.

In such cases, having a personal injury lawyer argue on your behalf would be a great asset. Insurers recognize that such attorneys have the experience and resources to take them to trial, potentially increasing costs to their company. To avoid additional costs, insurers would be more amenable to settle out of court and give you the compensation you deserve.

Your Attorney Can Reduce Stress After An Accident

Even when your insurance provider isn't trying to cheat you out of your policy benefits, they may require evidence to substantiate your claims. Collecting the necessary documentation after a car crash can be drawn out and complicated. This could add more to your stress at a time when you should be focus on recovering from the accident.

To help you avoid unwanted stress, you can hire a lawyer to do the legwork for you. Attorneys who specialize in car accidents and personal injury claims are highly experienced in gathering pertinent documents and evidence. They should be able to help you comply with insurance requirements and file your claim..