Why Are Tractor-Trailer Crashes So Horrific?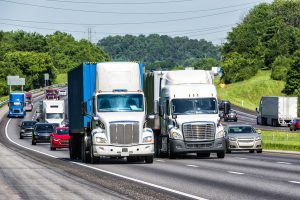 Michael Babboni

Trucking Accidents People can get into numerous types of accidents today like passenger vehicle vs. passenger vehicle, bicycle vs. car, motorcycle vs. car, or car versus a pedestrian. While all of the incidents mentioned above are bad, perhaps, none of them even come close to being as horrific as collisions between big-rigs and passenger vehicles. Why? Well, for starters, the trucks are much larger than standard cars, trucks, and SUVs. As such, whenever a crash occurs, the tractor-trailer sometimes only sustains minimal damage, but on the other hand, the passenger vehicle is left looking like a mangled mess.

The trucks also weigh a lot more than other vehicles, especially when loaded to the max. If a driver takes a curve a little too fast or makes a right turn too sharp, the tractor-trailer could flip and land on top of a car in the next lane. Heck, on occasion, the issue might not even be caused by the operator at all.

If a trailer is loaded inappropriately, or cargo isn't strapped down correctly, the weight might shift and produce the same result. Regardless of what happened to cause the problem, the pounds and pounds can flatten the roof of the car, making it impossible for survivors to escape without help. In other words, the fire department may need to use the jaws of life to get them out.

Speeding Is Another Cause For Concern

Truck drivers are normal people. They eat, sleep, operate vehicles, and make mistakes just like anyone else. However, because of the size and weight of the big-rigs, it is best for them to be extra cautious while behind the wheel. Unfortunately, that is not always the case, though. Maybe the operator is pressed for time and trying to meet a deadline for their delivery. Then again, he or she could just become distracted and allow their right foot to become heavy.

If the truck rear-ends a vehicle that stops in front of it at a high rate of speed, the car's trunk and back seat can be pushed forward toward the front of the cabin. Additionally, if the big-rig gets into a head-on collision with a passenger vehicle, the outcome can be catastrophic. Injuries are possible, but more often than not, loss of life will become part of the equation for the car's drivers and passengers.

This And That About Drowsy Driving

There are laws in place that prevent tractor-trailer operators from driving too much. Still, though, it is not uncommon for the laborers to fudge the books now and again. In turn, they are working more hours than they should be, and drowsy driving can enter the picture. Should an individual doze off, the big-rig could swerve into another lane of traffic, side-swiping a car along the way. Then, the passenger vehicle might be sent spinning out of control, hit a concrete barrier, and turn into a heap of twisted and bent metal.

Reasons To Contact A Personal Injury Lawyer After A Tractor-Trailer Accident

If you sustain severe injuries following a trucking accident, you may be entitled to compensation for your wounds. However, you must be able to prove that the tractor-trailer driver was negligent or reckless, which is easier said than done. It doesn't have to be, though. A personal injury lawyer can make proving fault a cinch. He or she will collect witness testimonies, black box data, surveillance camera footage, and more to find out what really caused the crash.

Transport companies usually have legal teams on standby. They wait in the wings for an accident to occur so that they can discredit the claim. Their primary concern is to prevent their client from paying out a substantial sum. Our personal injury lawyer has the experience and know-how to combat these legal teams. So, if you require top-notch representation, look no further than here. We are more than happy to fight on your behalf to recover the compensation that you deserve after a truck accident..