Where Are You Most Likely To Have A Slip And Fall Accident In Florida?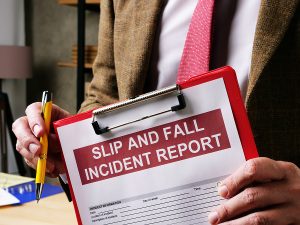 Michael Babboni

Personal Injury Millions of slip and fall accidents occur across the United States each and every year, and many of these occur in the state of Florida. While the majority of slip and fall accidents occur in senior residents, that doesn't mean younger individuals are safe from the damage that a slip and fall can do. Slip and fall accidents can cause a number of different injuries, and if the fall was caused by another party's negligence, you could be entitled to compensation.

No one expects to have a slip and fall accident in the state of Florida, but these can occur in even the most common of locations. A trip to the store, a walk down the street, or a stop over at a friend's home can be the setting of your slip and fall accident.

Watching for hazards in walkways, wearing proper footwear, and being cognizant of walkway conditions can help you to avoid slip and fall injuries. Some of the most common locations of slip and fall accidents in the state of Florida include:

• Workplaces and job sites – Workplaces are where Florida adults spend most of their day, so it makes sense that many slip and fall accidents happen in these locations. On a construction site or outdoor job site, it can be easy to see how these slip and fall accidents may occur. Footing may be uneven, tools and other debris may be scattered all around a location, or long days may cause hazards to go unnoticed. However, it's not just construction and job sites that are common settings for slip and falls. A computer cord in an office, an uneven step outside of the building, or a wet floor in the cafeteria may all cause slip and fall accidents as well.

• Private residences – Private residences aren't usually held to the same kind of standard that a public setting would be. For instance, while it may be the law to have a "wet floor" sign on display at the grocery store, it's not the law that your friend will need to place one in their home entryway during a rainy day. When one slips and falls at a private residence, and their accident causes injury, they'll typically be working with the resident's homeowners insurance to get the compensation they need to cover their injuries.

• Grocery or retail stores – Grocery and retail stores are exceptionally common locations for slip and fall accidents. After cleaning, wet floors must be marked, debris must be picked up, and the property inside and out must be deemed safe for the patrons inside. However, sometimes things slip through the cracks and this is what leads to slip and fall cases. A customer dropping a piece of merchandise on the floor can cause another customer to slip and fall on the hazard before an employee is even able to pick the item up.

• Theme parks – Florida is home to no shortage of theme parks, and this is another common location for slip and fall accidents. With so many individuals coming into, out of, and enjoying a theme park at any given time, there will be occasional spills and hazards on common walkways. Children running, crowded spaces, and distracted individuals walking through may also lead to slip and fall accidents.

• Theaters, concert venues, and indoor attractions – Indoor attractions are another common setting for slip and fall accidents. These venues will often have low lighting, stadium seating, and plenty packed into a small space in order to provide as much entertainment as possible. The entertainment distractions paired with a crowded and dimly lit area creates the perfect storm for a slip and fall..