What To Do When Your Vehicle Is Recalled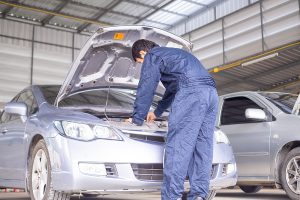 Michael Babboni

Recalls When you purchase a vehicle in the St. Petersburg, Florida area, particularly a brand-new vehicle, you have the expectation that that vehicle is safe, it will last you a number of years, and you've just made a solid investment. Unfortunately, recalls happen, and in fact they happen to the tune of millions each year. During the year 2020 alone over 13 million vehicles were recalled throughout the United States for issues ranging from faulty back-up cameras in Fords to various electric car manufacturers for faulty batteries at risk of bursting into flame.

When your vehicle is recalled there is a process involved, and this process includes:

• Receive a recall letter – If your vehicle is recalled you'll likely first receive a letter outlining the recall and the next steps your vehicle's manufacturer wants you to take. Each manufacturer may have different protocol for handling various recalls.

• Take your vehicle to a dealership – After you receive your recall letter you'll likely be asked to take your vehicle to a dealership for inspection and repair of the recall issue. This doesn't necessarily mean taking your vehicle to the dealership you purchased it from, but to an official dealership for the manufacturer of your vehicle. For instance, you may purchase a pre-owned Volkswagen that was turned in at a Toyota dealership, but this doesn't mean returning it to the Toyota dealership for repair. The Volkswagen will need to be taken to a Volkswagen dealership in order to have the recall repairs made, even if you did not purchase your vehicle with them. Various Volkswagen models were recalled in 2020 for faulty and potentially dangerous airbag malfunctions and they may be inspected and repaired with replacement airbags at any Volkswagen dealership.

• Figure out what may be included in your recall – Each recall is different, and some may include free taxi service to and from a dealership, free rental car services while your vehicle is being repaired, and even free pickup or return of your vehicle to the dealership that will make the repairs. When an auto manufacturer recalls your vehicle all repairs to fix the recall-related issue will typically be free of charge.

When Your Vehicle Malfunctions Before A Recall

Before an auto manufacturer issues a recall the problem will need to be realized by real drivers and real passengers suffering the consequences. In the Volkswagen example, models using Takata airbags were recalled for airbag inspection and replacement in December of 2020. The airbag inflator has the potential to explode, resulting in metal shards and fragments coming out with the airbag that may lead to serious injury or death. Before the recall was issued, more than 20 fatalities and 400 injuries were caused by the faulty airbag inflators in the United States alone.

If you've been injured by a faulty vehicle yet to be recalled it's crucial that you have a personal injury attorney by your side. Vehicle manufacturers will be protected by robust and skilled legal teams and getting the compensation you deserve will require representation of such a caliber for yourself. If you've been injured in a faulty vehicle related accident, contact us at TheStPeteLawyer.com to see how we can represent you in your case today..