What to Do When Pets Get Involved in a Road Accident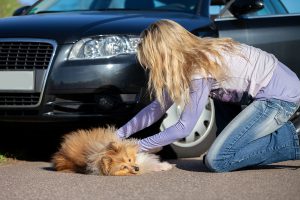 Michael Babboni
Car Accidents
Some people may view their pets as part of their family. When pets get sick or get into an accident, we give them the utmost care, medical services, and legal services available to bring those who are at fault to justice.
From the point of view of the law, however, pets bring in a different discussion to the table in terms of settlement and compensation. If you have the unfortunate circumstance of having a pet injured from a car accident, it is imperative to get in touch with an attorney who knows how to fight for your pet as if you are fighting for your family's welfare.
Statistics of Pet
Accidents in Cars
Americans love their
dogs and cats, and often travel with them on the road. Surveys have shown that
up to 80% of dog owners drive with their pets in the car. Of the common drivers and travelers,
only 16% have proper safety restraints and gear for their pets. With the
growing statistics of road accidents, it is not uncommon to have pets involved
in such tragedies.
Rear-end collisions
are very common on Florida's roads. Research shows that this is the commonplace
area where pet owners keep their dogs and cats when they travel.
Dog Laws in Florida
Dog owners need to
abide by certain laws pertaining to dogs in Florida. One of the most important
ordinances related to vehicular accidents is that dogs are required to be
leashed when they are out in public.
As a responsible pet
owner, you need to be careful and watchful of your dog when you are out,
especially in the streets. Dogs can easily be distracted by moving vehicles, so
keeping them on the leash at all times will already be a good first step to
avoiding hit-and-runs if your dog strays into the street.
Dogs are also not
allowed to ride in pickups unless he is in a crate. This ordinance then takes
away the possibility of dogs jumping out of cars and onto the street,
potentially endangering them and other drivers and leading to vehicular
accidents.
Two Sides of the
Claim: The Loose Dog Argument
In the event of a
loose dog, Florida laws are also strict in laying the blame for accidents after
the fact. For instance, it is stated in Florida Statute 588.15 that any livestock or pet that damages
others' properties or injures another on the road will mean the owner is liable
for any damages. This means that if a pet dog or even livestock like horses
stray onto roads and cause an accident due to the owner's negligence, they will
be held responsible in paying the bills and other damages.
This is because the law treats animals as property. In the same way that a driver is
responsible for paying the medical or damage fees for crashing into another
car, a pet owner causing damage or injury on the road has the same consequence.
Understanding Damages
and Faults




Sometimes, it becomes
harder to tell who is at fault, especially when there is more than one car on the road. If it is single vehicular
accident, where the driver swerves out of the way to avoid a running dog or
pet, then the pet is most likely to be at fault, and will need to be settled.





Other times on busy roads, it would not be surprising to find two cars
involved in an accident. However, some factors, such as rear-end accidents may
be at play. It helps to consult with an attorney to tease out these
complexities and build a proper case.

.