What To Do If You've Been Injured By A Defective Product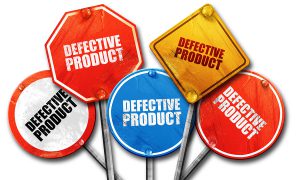 Michael Babboni

Recalls Being injured by a defective product is a difficult situation for any St. Petersburg resident. Products sold to be public should be safe, worry-free, and functional when used correctly, but this, unfortunately, isn't always the case. Even the most reputable brands can experience hiccups in their manufacturing or design processes that result in defective products, and these products can cause serious injury or worse.

When pursuing a personal injury lawsuit because of a defective product accident, what you do immediately following the accident will make all the difference in your case. Defective product injuries can happen at home or at the workplace, and depending on where the accident occurs you may need to modify your next steps.

Defective Product Injuries At Work

Those in manufacturing or construction fields are typically the most likely to find themselves in a defective product accident at work. In these fields, a worker will be expected to work with tools and heavy machinery, both of which can lead to serious injury if they're not working properly. If you've been injured by a defective product at work, the very first step taken should be filing a formal report. A full verbal or written report of the accident should not be given until you've spoken to your St. Petersburg personal injury attorney if at all possible. Without the presence of your attorney, there is a chance you may say or do something that jeopardizes your case without knowing or realizing it.

Your supervisor should be notified as quickly as possible after the accident has occurred, either by you or by a co-worker and witness to the accident. After the incident has been reported, your insurance provider should be contacted to make sure the accident has been reported with your agency. Without promptly reporting the accident to an insurance provider as quickly as possible, a claim may be denied.

Defective Product Injuries At Work Or At Home

If your defective product accident has occurred at home, or the first steps have already been taken after a work injury and your supervisor has been notified, you'll need to do some more evidence collection to ensure you build a strong case for yourself. The first type of evidence that should be collected is photographic evidence, which showcases the product, the defect, and the entirety of the accident scene. If you're unable to take these photos yourself, a witness, family member, or friend may take them for you, but they should be taken as soon as possible.

After you've documented your accident in photographs, it's then time to write down your account of the accident as a whole. Included in this writeup should be your actions that preceded the accident, how the defective product caused the accident, and what occurred after the accident happened. If any witnesses were present at the time of the accident, their contact information should also be written down and kept with your written statement.

After you've documented your evidence, it's then time to call a skilled St. Petersburg personal injury attorney experienced in defective product liability laws. Your attorney will make sure that you've collected all proper evidence, and they'll direct you about avoiding social media and putting yourself in your best position for a fair and reasonable settlement. During the time of the case, information should only be shared with your attorney, and temptation to share your experience with others limited until the case has been completed..