What To Do After A Hit-And-Run Accident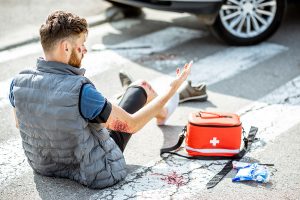 Michael Babboni

Car Accidents Being in a hit-and-run accident is one of the worst situations. Not only are you left dealing with injuries and property damage from the accident, but you may be worried about how you will pay for everything without the at-fault party as well. However, you still have rights in a hit and run, and there are some things you can do to protect yourself. Read on to learn more about what you should do after you've been in a hit-and-run accident.

Steps To Take At The Scene Of The Accident

Everything you do at the scene of the accident will make a big impact on your ability to pursue justice later on. Here is how you can stay protected:

● Seek Medical Attention: If you are injured, the most important priority is getting immediate medical care. Call an ambulance or get to the hospital as soon as possible. Everything else is secondary to your health.

● Call The Police: If you are physically able, call the police right away so they can come to the scene and investigate the accident. They may even be able to find the other driver who escaped.

● Write Down Details About The Other Car: It might be hard to notice details during the accident, but you'll want to try to remember everything you can. Write down the color of the car, its make and model, and any of the characters in the license plate number you can recall.

● Talk To Witnesses: If there were any witnesses to the accident, get their contact information. They may have been able to catch certain details you missed about the other driver. Those can be useful in finding the culprit.

● Look For Cameras: If there is any surveillance equipment around such as traffic cameras or security cameras in front of business establishments, take note of them. They may be able to provide footage of the other driver that can be used in identifying them. The same footage can be used as evidence to prove your claim.

● Take Pictures: Take photos of everything: the damage to your vehicle, your injuries, and the scene of the accident. If you can, take a picture of the other vehicle too.

All of these steps can help the police identify the other driver and get you closer to justice.

What To Do Next

After the accident, there are some other steps you'll need to take in order to protect yourself, including:

● Notifying Your Insurance Company: When you contact your insurance company to tell them about the accident, remember to stick only to the facts. If they ask questions, tell them you aren't ready to make a statement until you speak to an attorney.
● Collecting Medical Records: When you are injured, make sure to get a copy of your chart notes and medical bills from the injuries. These will help prove that your injuries were a result of the accident.
● Documenting The Damages: See to it that you document any and all damages you incurred from the accident. Those include property damage, lost wages from missing work, and the costs of getting to and from doctor's appointments.

Finally, you'll want to speak with an accident attorney.

It is challenging to know what to do after a hit and run. Fortunately, you still have legal recourse even if the other driver isn't found. A seasoned accident attorney like Michael Babboni, the St. Pete Lawyer, can provide you with the support you need. He'll review all your options and help you pursue a claim for your damages. He will help investigate the circumstances of the accident and fight to protect your rights.

If you've been injured in a hit-and-run accident, you aren't out of options. Call 1-727-381-9200 for a free case review today..