What Should I Do In A Boating Accident?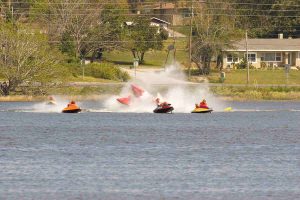 Michael Babboni

Personal Injury If you are involved in a boating accident, it can be a scary ordeal. You may be miles out to sea and need help. During the accident, keeping calm will be key. After the accident, there are a few things to remember.

Is Everyone OK?

First things first. Check everyone on board to make sure that they are ok. You are going to need to assess the situation and find out if anyone needs medical help. Injuries should be tended to first, and if any of them are serious, you should call for help immediately. Use your cell phone or your radio to call for the Coast Guard. They can arrive with medical help to get the care that your passengers need. In order to assist them in getting to you quickly, be sure to have your exact location available, preferably with your latitude and longitude. If there are any small injuries, you can tend to them with an onboard first aid kit.

Exchange Information

If you accident involves another vessel, you are going to want to exchange information with the other boat's operator.

1) Name
2) Address
3) Phone Number
4) Boat's Name
5) Hull ID number
6) Insurance information, including their policy number

Collect Photographic Evidence

It is best to take photos of any damage to your boat or to any other property. This can serve as evidence later down the road if the case ends up going to court. Your insurance company may also want to have photographic evidence in order to file a claim. Boats are a little bit more complicated than cars because you can't just park your boat and then get out and walk away. If you are in the middle of the water, you'll have to take your boat back to the shore in order to get on dry land. Taking photos the best that you can before you drive back to land is the best option to show what happened. You can take more photos when you reach the dock. If your boat is so damaged that it won't make it back to the dock, taking photos as soon as possible may be your only option.

Call Your Insurance Provider

Once you are safe, call your boating insurance provider. They will be able to tell you the best way to proceed. They may send someone out to you to investigate the accident, or they may want to see the photos that you took at the accident site. Be sure to give them the contact information and the insurance information that you collected from the other boat's operator. If the Coast Guard came out to help, provide them with that information too. The Coast Guard may have details that you did not see while you were involved in the accident.

The number one concern is safety when it comes to a boating accident. Be sure to address any injuries first. If the boating accident has left you with damaged personal property or large medical bills, it may be time for you to contact a lawyer. Our law firm has been handling personal property claims for over 27 years. Give us a call today to get the help you need with your personal injury claim or personal property claim..