What Is A Manufacturing Defect?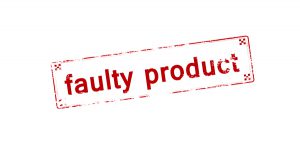 Michael Babboni

Personal Injury Recalls Have you seen products that have been labeled with a manufacturing defect? Have you been injured by a product with a defect? A manufacturing defect can cause injuries ranging from small to traumatic. Legal action may be necessary to pay for medical bills and to make sure that no one else gets hurt from using the same faulty product. Let's take a look at what a manufacturer's defect is and how it affects you.

Definition

A manufacturer's defect is when a defect occurs in a product that was not intended. This can include faulty parts, incorrectly assembled pieces, poor materials and more. A well-designed product can still contain manufacturer's defects. Manufacturers order their parts from other manufacturers, and if all the parts are not up to the proper level of quality, the final product also will not be up to quality. These small defects often go unnoticed by the plant, and end up causing injuries to the people who purchase them.

Three Kinds Of Defects

When talking about products, there are three main kinds of defects that happen. The type of defect you are dealing with will determine how you proceed with legal intervention.

1. Was the defect in the product's design? This means that the defect was present even before the product was made. This is considered a design defect.
2. Was the defect in the product's marketing? Was is labeled incorrectly or did not contain sufficient instructions or safety warnings? This is considered a marketing defect.
3. Was the defect caused from faulty parts? Did something break while you were using it? This is considered a manufacturing defect.

How Are You Protected?

The Product Liability Law was put in place for this exact reason. This is not a federal law, and therefore varies state by state. Under Florida's law, a defendant is liable for an injury if the product creates conditions that are considered unreasonably dangerous. If you find yourself injured due to a product's malfunction or defect, it is best to contact a lawyer as soon as possible and have your situation evaluated. The sooner you visit, the more evidence can be preserved for the case.

Who Is Responsible?

If your injury falls under the Product Liability Law, the court will look at who is responsible for the injury. Chances are that one or more of these parties will be held responsible for their part in the creation of the faulty product. Some research may be needed in order to determine exactly how many different companies have been part of the manufacturing process. This is where your legal team will jump in to be able to help you out with researching the companies and who they deal with. There are a few different choices for who may be responsible:

1. The manufacturer of the product.
2. A manufacturer that made the parts for the product.
3. The company that put together the product.
4. The retailer that sold the product to you.
5. The wholesaler.

Get Legal Help

Michael Babboni has been practicing law in St. Petersburg for more than 27 years. He and his team have the experience you need to get results in your case. Our office is located on Central Avenue, and we would be happy to sit down and talk with you about the best way to proceed if you or a loved one has been injured by a product defect. The sooner you call, the sooner we can be on the way to getting you the help that you need..