What Challenges Might You Face After A Motorcycle Crash?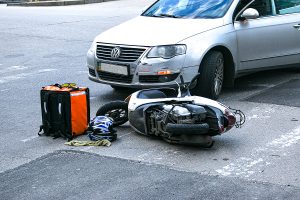 Michael Babboni

Motorcycle Accidents Is there anything better than taking the world by storm on the back of a motorcycle these days? Bikes allow riders to see everything from a different perspective. They don't feel caged in and trapped by doors, windows, and roofs as with cars. Yep, being a motorcyclist in St. Petersburg is something special, and that's why many of us can't seem to get enough traveling in this way.

However, as you probably know, riding can sometimes be dangerous. Sure, you use safe driving practices and obey traffic laws to avoid accidents, but those things might not be enough to keep instances at bay. Why? Because you're also sharing the roadways with other drivers, that's why. If they fail to pay attention or control their vehicles, you could get struck by one of them.

You always wear protective gear for just such situations, but that doesn't mean you'll escape the event unscathed. After all, a helmet and padded clothing can only do so much when a car strikes you. These episodes cause people to fly from their bikes and hit the pavement hard. Motorcyclists also sometimes land atop the vehicles that sucker punch them. When that happens, they can go through their windshields or meet their hoods and roofs up close and personal.

Let us not forget about how cars can run over motorcyclists after they get unseated by collisions too. The point is this; motorcycle accidents are unforgiving, and they turn peoples' lives upside down. Why? Well, we're glad you asked, and this post is going to focus on challenges that may present themselves to you following a crash. Hence, if your interest is piqued, please, stick around and read on to learn more.

Severe Injuries

As you can imagine, serious injuries can come to fruition in motorcycle accidents. Some of the common ailments riders are left with include but are not limited to traumatic brain injuries, paralysis, broken bones, and burns. If people can recover fully, they usually have long roads ahead of them, and if not, their lives become changed forever, and they must learn to live with their injuries.

Financial Challenges

Getting hurt in a motorcycle accident isn't a fun and relaxing walk in the park. The aftermath can be stressful and overwhelming. Not only are victims dealing with injuries, but money woes can enter the picture as well. It is not uncommon for those who sustain damages in crashes to lose wages because they can't work. They also have to pay for doctors, procedures, medications, and therapists. With no paycheck coming in, these and other bills can pile up in a hurry, presenting the injured with financial challenges.

Insurance Disputes

If someone else is at fault in an accident, their insurer should take care of the other party's damages. That isn't always what happens, though. Disputes can arise and make insurance companies deny claims. Even if conflicts don't occur, adjusters and lawyers can give victims the runaround. For instance, they could only offer them low-ball settlements, or they might try to get them to relinquish their rights to compensation altogether.

Have you been injured in a motorcycle crash because of a negligent driver in St. Petersburg? If the answer is yes, you can hire an accident attorney to fight on your behalf and recover the compensation you deserve. Our lawyer, Michael Babboni, represents every motorcycle accident injury case personally, but he also has an experienced legal team backing him up. Are you ready to get going and see what's what? If so, please, don't hesitate to contact our local St. Petersburg firm and schedule a free case evaluation today..