What Are St. Petersburg Slip And Fall Laws?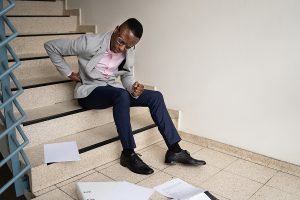 Michael Babboni

Law If you're walking through your favorite area store around St. Petersburg, or you're having a stroll down a neighborhood street, Florida's slip and fall laws are what determine the compensation you're entitled to should you suffer a fall-related injury on another's property. You have rights and options if you've been injured and learning more about Florida injury law gives you a sense of what those options are.

If you have been in a slip and fall accident in Florida, you will have to prove negligence if you wish to receive compensation for your injuries. In your case, you'll need to prove with evidence that it was negligence on the part of the property owner that directly lead to your slip and fall, and that if no negligence was present you would not have suffered injury. Proving negligence can be tricky in a St. Petersburg slip and fall case, but this is where your personal injury lawyer comes in. Your personal injury lawyer will be able to use the details to build your case, proving that negligence was present and thereby your damages are the responsibility of the property owner.

The statute of limitations on slip and fall accidents in Florida is 4 years. From the date of your fall, this means you have 4 years to pursue a slip and fall case to recover damages if you choose.

What Will Need To Be Proven?

In order to build your slip and fall case, your personal injury lawyer will need to prove that the property owner had a duty of care to the injured person, that the duty of care was breached, and that the injury would not have occurred if the duty of care was not breached.

The vast majority of St. Petersburg slip and fall cases occur on business properties. This could be a grocery store, a corner store, a restaurant, or any sort of business where the public is invited during business hours. Customers or patrons are considered to be "invitees", meaning that they have been invited to be on the property. Invitees are entitled to the highest duty of care from property owners, and their safety on said property is the business or property owner's responsibility.

Duty of care is most often breached when a property owner does not remedy a hazard or adequately warn invitees of the hazard's presence. For instance, a store could be undergoing renovations, and these renovations could lead to some debris or cords on the floor around the renovation area. That property owner will need to block off that area entirely or put up adequate signage notifying invitees to potential slip and fall hazards that may be present. Not warning of these hazards would be a duty of care breach.

In some instances, a spill may be present on the floor of a business, and if an invitee slips in that spill this is where things may get complicated. The injured person's personal injury lawyer in St. Petersburg will need to prove that the spill was left on the floor for a long enough period that it became a duty of care breach, and the accident could have been avoided by doing more frequent maintenance checks around the property.

What Could Be Included In My Slip And Fall Settlement?

There are various damages that may be included in your slip and fall settlement. You may include lost work wages, medical costs, emotional or mental pain and suffering, and property damage in your compensation, as long as these damages can be proven. Your personal injury attorney can walk you through the settlement process to come up with a fair and reasonable amount to account for your damages.