Was Your Spouse Struck And Killed By A Negligent Driver?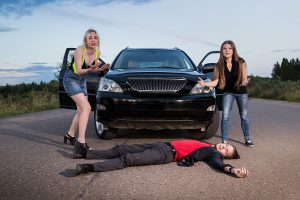 Michael Babboni

Car Accidents People in Florida walk or jog around their neighborhoods to stay active. Folks also use their two feet to get to workplaces, schools, stores, and more. But, of course, we can't leave tourists out either. Visitors always seem to be walking to get from here to there in St. Petersburg. There's certainly nothing wrong with any of these activities, but those who participate in them need to be careful.

Why? Because there are motorists, motorcyclists, truck drivers, and other operators on the roadways. If one of them is negligent in some form or fashion while a pedestrian is nearby, they could strike and kill that individual. Sure, crashes involving pedestrians can leave victims with severe injuries, but today's focus is on wrongful deaths.

Let's say that your spouse is out for an evening stroll when out of nowhere, a car jumps the curb, hits them, and they become pinned between the vehicle and a light pole. We get it; that sounds horrible, but the picture must be painted in your mind so that you can see how bad these events truly can be. The one bright side of this scenario is that your husband or wife did not suffer. They died on impact and didn't have to deal with pain or discomfort. Yet, that doesn't make the situation any better for you or your family because everyone is left behind to grieve, mourn, and take it one day at a time.

More Bad Stuff Could Be Coming Your Way

As if losing your spouse wasn't enough, some other issues can arise after their passing too. Firstly, you will have to pay for a funeral, and that won't be cheap. According to Lincoln Heritage, the price for a viewing, burial, and basic services will run a person between $7,000 and $10,000 today. That's a whole bunch of cash for a spouse to pull together on short notice, providing that they can at all.

There's also the matter of lost income. Due to the individual's death, they will no longer produce paychecks to add to the family's funds. In other words, the lives of you and your children may have to be altered drastically just to get by. Plus, it is only a matter of time before collectors will begin calling, and they'll expect you to cover the debts of the deceased. Thankfully, there may be a way for you to avoid such financial hardships. 



Hire A St. Petersburg Wrongful Death Attorney

When someone's negligence takes the life of your spouse, sibling, or child, that party's insurance should compensate you. Unfortunately, that is not always what happens, though. Insurers often deny wrongful death claims by pushing some or all of the blame to the victim. They also like to offer low-ball settlements to make situations disappear. The point is that insurance companies are only worried about spending the least amount of money possible in these cases.

Their representatives take advantage of family members, and that just isn't right. So do yourself a favor and put a top-notch wrongful death attorney in your corner. That will show the insurer that you mean business and are willing to do whatever it takes to win the lawsuit. Who should you hire? Well, that depends on what you want, but if it is the best you're after, please, don't hesitate to contact The St. Pete Lawyer. He will fight to recover the compensation you deserve and make every decision based on your best interests.

Therefore, don't delay any longer if a drunk, speeding, distracted, or drowsy driver claimed the life of your spouse. Instead, obtain legal representation and seek what you're owed. Call our firm to schedule a free case evaluation today.