Unsafe Conditions Cause Accidents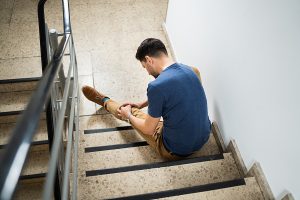 Michael Babboni

Premises Liability Property owners are supposed to keep guests safe while visiting their properties. That not only includes friends and family members but licensees too. Nobody is saying they have to jump in front of others and take bullets for them. The situation is a little less dire than that. Landowners must repair problems ahead of people coming over, so they don't get hurt by them. At the very least, individuals must inform visitors of potential dangers.

For instance, if there is a low-lying clothesline in the back yard, one that could catch a person's throat and make them fall to the ground, a sign should be posted to reveal the threat. Another example would be inviting the whole neighborhood over for a swimming pool party without a lifeguard on duty. If the guests aren't aware that they are swimming at their own risk, the property owner could be held liable if someone drowns. Once again, a warning sign may ensure the person isn't responsible for damages.

When property owners are negligent, visitors that get hurt may be entitled to fair compensation for their wounds. They must prove that negligence was part of the equation, though, and that it caused their injuries. That sounds like quite a tall order, but it doesn't have to be. Florida victims don't have to face these situations alone, as we are here to help. Our personal injury attorney can build strong premises liability cases to recover the compensation that people deserve.

The Florida legal system isn't a get-rich-quick scheme. As such, millions of dollars might not be in store for everyone. However, our lawyer will fight tooth and nail to get a fair settlement for you. The funds can be used to pay for medical bills, funeral expenses, and more. The initial case review is free because people shouldn't have to break the bank just to see where their claims stand. Also, there are no fees unless you win. It doesn't get much better than that. Now, let's look at some ways folks can sustain injuries while visiting other properties.

A Spill On Aisle 13

Most of us don't give much thought to going to the grocery store. We simply head there, get what we need, check out, and go home. However, a trip can become a nightmare quickly if a spill occurs on an aisle and doesn't get cleaned up. A shopper might not see the cooking oil, pasta sauce, or whatever, step right in the puddle, and hit the ground hard. The individual breaks their ankle and suffers a traumatic brain injury. Because nobody took the time to clean the mess, the organization was negligent. As such, it can be held liable for the victim's damages.

A Busted Handrail

In this example, a homeowner has decided to host a tea party for friends. Doesn't that sound like fun? Anyway, the person knew that the handrail for the stairs had been feeling weak in their hands for months. Yet, they did nothing to fix the issue, nor did they warn guests about it. A partygoer goes to the upstairs restroom, does their business, and heads back to the first floor. Only, upon gripping the handrail, it busts, and they tumble head over heels down the stairs. The person fractures bones in their neck and back. They also break their right arm. This is a type of scenario where a premises liability claim can arise..