Types of Defective Product Claims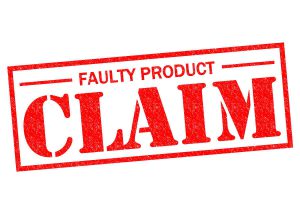 Michael Babboni

Personal Injury Recalls When a product goes wrong, there can be serious consequences. Injuries can occur and property can be damaged. A lot of times it is not the fault of the person using the product, but is actually the fault of the company who put together the product in the first place. There are three main types of defective product claims that can be filed to determine who is at fault for the damages. Here is a brief look at each one.

Product Design Defect

A design defect occurs in the beginning stages of a product. The designers make up a plan for the product and how they will make it. Somewhere in this plan, something goes wrong. It may be a miscalculation, or it may be a wrong part used in the product. The design is flawed, and therefore the product becomes dangerous to anyone using it. This type of claim means that the whole line of products that has been made is defective, not just the one product that malfunctioned. The product was made exactly to the design's specifications, but something still went wrong. Some types of this defect include:



Tire tread separation


Mats in your car that may get lodged under the pedals, causing an accident


Cars that have a tendency to roll over


Sunglasses that fail to protect your eyes from harmful UV rays


A line of clothing where the shirt sleeves are designed too short on one side


Water bottles that have been designed with ingredients that contain BPA


E-cigarettes that are exploding in people's pockets



These are just a few examples of possible defects in the design of the product that you may be using. Some of them are life threatening, while others may just mean that the product needs to be returned and the defect pointed out.

Manufacturing Defect

A manufacturing defect occurs when a product leaves the warehouse with some sort of defect in the craftsmanship. This can mean that faulty materials were used, a piece was installed incorrectly, or a piece is completely missing. The fault lies somewhere in the line of making the product, and it can cause a product to malfunction or to be dangerous. This type of claim involves only one specific product, not the entire line of the product and is usually isolated to one or a few cases. Some examples can include:



A batch of medicine that has dangerous ingredients


Food that contains bacteria or non-food materials


A playscape that comes with faulty parts


A car with defective airbags


Electrical components that are improperly installed, causing shock or electrocution


Missing brake pads


Improper connections in a major appliance



Many times there will be a product recall that is related to a manufacturing defect. A batch of medicine might be recalled, or a certain type of food. Car recalls are a little more complicated, but equally important to get fixed right away in order to avoid an accident. Manufacturing defects should be made known to the public and the manufacturer. If you have experienced a manufacturing defect, don't hesitate to contact us.

Marketing Defect

A marketing defect occurs when a product comes with inadequate labels. This may occur in the instructions for a product, or in the warning labels that come on a product. These items can be dangerous if not used the right way. The danger usually occurs in something that was not seen or obvious to the user. A different placement of a feature or a badly placed piece can result in injury while the consumer is using the product. Some examples of this defect include:



A medicine with unknown side effects


A household cleaner that causes chemical burns but was not labeled properly


Cell phones that can become overheated when kept in a pocket


Baby products that are sold with a label on them that makes the user believe that the product is safe to use, but actually can cause harm if used incorrectly.


An item labeled as bulletproof when it actually is not



Improper labeling of a product can cause injury and harm as much as a product with a design flaw or a manufacturing defect. If the product had been labeled correctly, the injury or accident would not have occurred. These instances need to be made known so that no one else becomes a victim as well.

Any of these three types of claims can be made with the help of a lawyer. Michael Babboni has over 27 years of experience filing these claims in the St. Petersburg area. Contact our office today so we can help you with your case and get you on the way to getting what you deserve.

https://www.nolo.com/legal-encyclopedia/types-of-defective-product-liability-30070.html
https://www.businessdictionary.com/definition/defective-product.html.