These Shock And Electrocution Risks Pose A Threat To Your Safety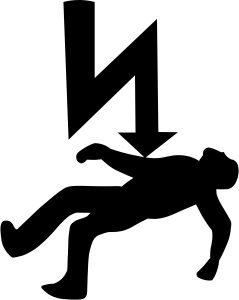 Michael Babboni

Recalls Two product recalls stand out among the rest because of the threat that they pose to your safety. One of them involves an increased risk of shock, while the other poses an increased electrocution hazard. The reason that these two stand out is because the risks are so closely related. Products are supposed to be safe for consumers to use, but that is not always the case. Stay informed about product recalls like these to keep you and your family safe.

Recall Issued On Approximately 1,700 Units

Extech has issued a recall on about 1,700 digital clamp meters. These tools are often used by electricians or hands-on homeowners to measure AC/DC voltage, resistance, capacitance, frequency, temperature, continuity, and diode. Only models with the serial numbers ranging between R15XXXXXXX to R17XXXXXXX are affected. It is printed on the back of the unit, and the company logo is on the front. Model numbers include…



EX650


EX655


MA160


MA61


MA63



These meters can provide you with an improper reading, causing you to believe that the power is off or low. Severe personal injuries and death can occur if you attempt to work on the circuit while it still has power. Consumers should stop using these meters immediately and contact the company's customer service department for a replacement. There have been two reports about improper readings, but no injuries have been reported to Extech. The recall number that should be referred to is 17-167 to get accurate information. The devices were sold at electrical wholesalers and distributors nationwide and at online retailers as well.

About 1,055 Wall Sconces Recalled

Rejuvenation Inc., a division of Williams-Sonoma Inc., has issued a recall on approximately 1,055 Rejuvenation Cypress and Imbrie model articulated wall sconces. They have adjustable arms that can pinch and fray the internal wiring. This can pose a danger to your safety as it increases your chances of sustaining a shock. Personal injuries and even death can occur from recalls like these, and it is important to remain informed about them. Each light contains a label located inside its canopy, and it contains valuable SKU numbers that need to be located. The SKU affected numbers are…



A1327, A1328, A1329, A1330, A1331, A1332, A9591, A9592, A9593, A9594, A9595, A9596, A3621, A3622, A3625, A3626, A3623, A3624



The adjustable arms are around 16-inches in length. They came in both plug-in and hard-wire versions, and in a variety of different finishes. These sconces were sold at Rejuvenation stores nationwide between September 2016 and March 2017. Consumers should discontinue use immediately and contact the company, referencing the recall number of 17-747, for a free repair or replacement. No injuries have been reported, but four incidents have been brought to the company's attention over the frayed wiring. The company is also supposed to contact consumers that purchased the sconces directly.

You Do Not Have To Fight These Corporations Alone

Manufacturers, distributors, and corporations often have lawyers standing by for just such an occasion. Proving that the defective product, or a negligent act by the company is to blame for your injury, can be easier said than done. Hopefully, this information helps you remain safe and injury-free, but if you become injured from a recalled product we can help. Give our office a call to find out the right course of action for your particular situation.