The Way A Wrongful Death Lawsuit Works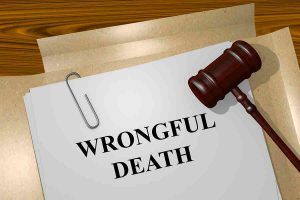 Michael Babboni

Car Accidents Wrongful death claims are either brought against a defendant who has caused someone's death negligently or through intentional harm. Wrongful death claims allow the surviving loved one to file a lawsuit against the party who is legally liable for the death. This suit is typically filed by a representative of the estate, on behalf of surviving family members and other affected parties.

When Can A Wrongful Death Claim Be Filed?

A wrongful death claim is applicable when a victim who would otherwise have a personal injury claim is killed as a result of negligence or an intentional harmful act on the part of the defendant. This can occur in a variety of different situations including:

When a victim is intentionally killed. For example, in the famous court case of OJ Simpson, he was sued for the murders of Nicole Brown Simpson and Ronald Goldman. This was believed to have been an intentional murder.

Car accident fatalities involving negligence. If the victim dies as result of car accident injuries, a wrongful death claim may be brought.

When the victim died of exposure to chemicals due to negligence. If the owner of a building knows that there is lead paint and does nothing to fix the problem which leads to someone's death, then you may have a claim.

What Do You Need To Prove?

In order to hold a defendant liable in a wrongful death claim, the plaintiff in the claim must be able to meet the same burden of proof that the victim would have had to meet had the victim lived. Using negligence as an example, this means showing that the defendant owed the victim a duty of care and that the defendant had breached this duty which is what led to the victim's death.

Who Can File A Wrongful Death Claim?

Usually, a wrongful death claim is filed by a representative of the estate of the deceased victim, on behalf of the survivors who had a relationship with the victim. Exactly who those survivors can be varies a bit.

In all states, a spouse can bring a wrongful death action on behalf of their deceased spouse. Parents of minors might also bring a wrongful death suit if one of their children is killed and minors can collect compensation for the death of their parents. More distant relatives such as cousins may have a harder time collecting wrongful death damages.

Wrongful Death Damages

Damages in a wrongful death claim, categories of losses for which a survivor might be able to receive compensation, may include:



the deceased person's pre-death pain and suffering


the medical costs that the deceased victim incurred as a result of the injury prior to death


funeral and burial costs


loss of the deceased person's expected income


loss of any inheritance as a result of death


value of the services that the deceased would have provided


loss of love and companionship



If you have lost someone due to the neglect or actions of someone else, do not hesitate to seek financial compensation! Here at the St. Petersburg Lawyer, we are dedicated to helping you through this painful period of your life and allowing you to get the financial compensation you need to recover. Contact us today for a free case review to see if you may be able to file for a wrongful death or other personal injury lawsuit.