The Hard Facts About A Slip And Fall Lawsuit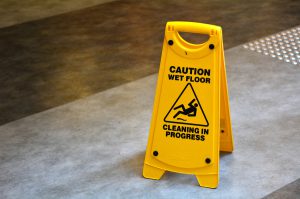 Michael Babboni

Premises Liability We've all heard the stories or seen the movie – someone slips and falls at a store or injures themselves in some other way and they instantly sue for damages. It's a big part of why accident law has a stigma attached to it, but it's also far from being that easy.

However, every day in Florida countless people hurt themselves on the job or in a public place and assume that they have no real rights to get help. Nothing could be further from the truth, and learning more about the basics of a slip and fall accident is something that is well worth doing. With that in mind, here are the hard facts about Florida slip and fall lawsuits.

You Shouldn't Feel Embarrassed To File A Claim

The first thing to understand is simple – you shouldn't feel embarrassed or ashamed to file a claim. The stigma of personal injury law has grown over the decades thanks to unfair news reports and portrayals in movies of 'ambulance chasers'. But the reality is that injuries can leave you struggling financially – medical bills and missed work can quickly put you in financial distress.

A slip and fall accident claim lets you get the money you need to get back to the point you would have been had the accident never occurred in the first place. It's a key part of making a full recovery – when you aren't focused on trying to get money that you have missed out on, you are able to focus more on your physical recovery. Simply put, the stigma of a personal injury lawsuit shouldn't be something you consider at all.

They're Not Easy To Win

This is one of the biggest misconceptions about slip and fall lawsuits. You can't just slip, fall, and end up with tens of thousands in your bank account. There's much more to it than that and in many cases, those hurt on someone else's property won't be able to get the compensation they think they can.

Under Florida law, you must be able to show that your accident was caused by the reckless or negligent actions of someone else. In auto accidents, this may include things like drunk driving or texting while driving, but in a slip and fall case, it can be much more complex. Some examples include:

• An employer knowing about a safety issue and not informing their employees
• Risks on public property that aren't corrected after being reported
• Failure to place warning signs about dangers
• Misrepresenting the risks of an activity
• Failure to take adequate measures to reduce the risk of injuries
• And more

It isn't enough that a safety issue is present and leads to your injuries. Instead, you must be able to show that the person responsible for maintaining the safety of a property was aware of those safety issues and chose to take no steps to correct them. Only then will you have the right to file a claim.

Keeping Records Matters

The more information you have, the stronger your case can be. Things like the names of witnesses or details of the accident itself could help win your case, while things like a log of the hours you missed at work and all of your medical bills can help ensure that you get the highest possible settlement so you can get back on your feet. Simply put, keep track of everything.

Help Is Out There

Being hurt can leave you feeling confused and unsure of your options. You aren't alone, however. Contacting a good personal injury attorney is one of the best steps you can take and something that will help ensure that you're fully protected and that you get the compensation you really deserve.

Our team has decades of experience in personal injury law and are here to help our clients. If you're hurt in a premises liability accident, you owe it to yourself to get the best possible results from your case. Contact us today to learn more about how we can help you and to get a free consultation with one of our experts..