The Five Most Valuable Pieces Of Evidence To Collect After A Car Accident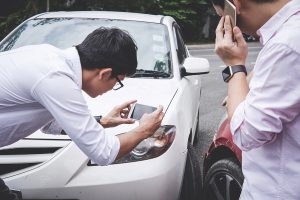 Michael Babboni

Car Accidents When you are injured in a car accident as the result of someone else's negligent actions, you deserve compensation for your injuries. Sadly, insurance companies do not make things easy for victims. They will fight you every step of the way to get out paying a fair settlement. The best way to combat this is to present strong evidence proving the validity of your claim. Here are the five most valuable pieces of evidence to collect immediately after an accident:

Photographs Of The Scene Of The Crime

Photographic evidence is indisputable. Pictures of the scene of the accident, the damage to the vehicles, and your injuries can provide the strongest support for your claim. Fortunately, with smartphones, now almost everyone has easy access to a camera. Following an accident, if you can, try to get as many pictures as possible.

Witness Testimony

Eyewitness testimony is also very important for proving your claim. Witnesses are often simply bystanders who happened to be at the scene during the accident. So they are considered a neutral and objective party in the legal process. Therefore, their testimony has a lot of credibility. After the accident, try to collect the contact information of every witness. That way they can make a statement on what they saw at the scene.

Police Reports

The police are also considered a neutral party. However, they are also considered subject-matter authorities because they are trained on how to document accidents objectively. After any accident, no matter if it is a simple fender bender, you should always contact the police. They will document what they see in a report that can be presented as evidence during the claims process.

EMT Reports

EMTs are also considered neutral, subject matter experts. When they respond to the scene of an accident, they document everything that happened. This documentation can connect your injuries directly to the accident. Proving your injuries were the result of the accident is a key part of getting an accident injury settlement.

Post-Accident Medical Records

Finally, you'll need to collect any and all post-accident medical records. Like EMT reports, they will help connect your injuries to the vehicle accident. They will also document all the injuries you've incurred and the related expenses. Medical records will prove how much the injuries cost you, so they are important to determine the full value of your claim. Medical records can be collected by calling the doctors you visited following the accident.

What Happens If I Don't Have All These Pieces Of Evidence?

After an accident, especially when you are facing severe injuries, it is hard to have the ability to collect all these pieces of evidence. Fortunately, that doesn't mean your case is lost. A personal injury attorney can help. Personal injury attorneys have the legal knowledge to make sure to get all the evidence needed to prove your claim. They work with private investigators, medical professionals, and first responders to help collect all evidence needed for you. That way you can focus on healing but trust that your claim will be paid.

Michael Babboni has been helping accident victims across St. Petersburg Florida for over 30 years. In that time he has also developed a broad network in the community that can help victims get the evidence they need to prove their claims. So if you weren't able to collect all this evidence, don't worry. He can help. Give him a call at 1-727-381-9200 for a free case review and to learn about all the ways he can help you get fair compensation for your injuries..