The Basics Of Workers' Compensation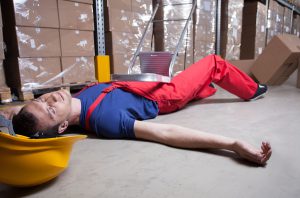 Michael Babboni

Personal Injury Thanks to the workers' compensation system, employees are required to purchase insurance that provides their employees with benefits when they suffer from work-related injuries and illnesses. This system is a type of compromise between the employers and employees to ensure the employees get benefits regardless of whose fault it was and employers won't get sued by injured employees.

What Does Workers' Compensation Cover?

Workers' compensation laws cover only work-related injury or illness. However, the injury or illness does not necessarily have to occur in the workplace. As long as it's job-related, it's covered.

For example, employees are covered if they are injured while traveling on business, or running a work-related errand.

Covered injuries and illnesses can range from sudden accidents, such as falling off a scaffolding, to injuries that happen over time, such as computer-related repetitive stress injuries, or illnesses that result from exposure to workplace chemicals, air pollution, or radiation.

For example, many workers receive compensation for repetitive stress injuries such as carpal tunnel syndrome and back problems. Workers also receive compensation for illnesses and diseases that are the gradual result of working conditions such as heart conditions, lung disease, and stress-related digestive problems.

What Doesn't Workers' Compensation Cover?

Not all problems that occur in the workplace are covered. Coverage may be denied in situations involving:



injuries caused by intoxication or drugs


self-inflicted injuries


injuries from a fight started by the employee


injuries resulting from horseplay or violation of company policy


felony-related injuries


injuries an employee suffers off the job


injuries claimed after an employee is terminated or laid off


injuries to an independent contractor


When Can an Employee Sue an Employer in Court?

Employers aren't protect from all employee lawsuits related to injuries. However, it is important to realize that if you do choose to sue your employer, you forfeit any right to any financial compensation from your workers' compensation. So you should think clearly about whether this is truly the right decision for you or contact a lawyer to review your case before going through with it.

What Benefits Are Available Under Workers' Compensation?

The workers' compensation system provides:



replacement income when employees are off work


payments for medical expenses, including doctors' visits, surgeries, and prescription drugs



An employee who is temporarily unable to work will usually receive temporary disability payments of two-thirds of the employee's average wage, up to a fixed amount set by law. An employee who becomes permanently unable to do the work he or she was doing prior to the injury, or unable to work at all, may be eligible for long-term or lump-sum benefits for permanent disability. The workers' compensation system also pays death benefits to surviving dependents of workers who pass away from work-related injuries.

If you live or work in the St. Petersburg, Florida area and are having trouble getting your workers' compensation, you shouldn't hesitate to get legal help. Insurance companies will do whatever they can to not give you the amount of financial compensation you need after an accident. However, with us at your side, you won't be taken advantage of. We have plenty of experience dealing with insurance companies and are dedicated to getting you the workers' compensation you are entitled to after your injury. Contact us today for a free case review!