Texting And Driving Is The New DUI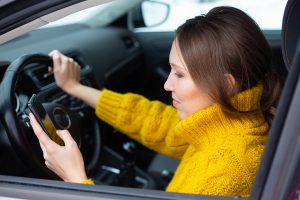 Michael Babboni

Car Accidents For decades, driving while under the influence of drugs or alcohol has been the number one scourge on our roads. DUIs lead to untold injuries and accidents every single year, and those hurt by a drunk driver often face a long recovery with plenty of frustration. But there is a new plague throughout Florida and the rest of the country – texting while driving.

A Huge Problem

It doesn't take long to figure out just how dangerous distracted driving can be when you look at the statistics related to it. Consider the following.



One out of every four accidents in the USA is caused as a direct result of texting while driving.


Cell phone use on the road leads to 1.6 million accidents every single year.


Almost 390,000 injuries occur due to accidents related to texting while driving


24% of fatal accidents with a driver aged 30 to 39 involved a cell phone


27% of adults admit to texting while they drive


660,000 drivers are using their mobile devices while driving at any daylight moment



In short, this is an issue that goes far beyond just 'teen drivers'. It's far too common throughout the US, and causes nearly as many accidents as alcohol use while driving does – and leads to fatal accidents at an alarming rate.

What If You're Involved In An Accident?

If you're involved in an accident that was caused by the other party's use of their mobile device while driving, you have the right to compensation. Filing a claim with an insurance company often isn't enough to get you what you're owed. Instead, you'll have to go further to get back your financial stability.

The problem is that insurance claims are often denied or given the runaround so the insurance company can avoid having to pay out a dollar more than they have to. And when they can offer a low settlement amount that is far less than you're really owed, they avoid this even more. As such, getting the help of an attorney and filing a claim is a must.

Proving Your Case

In order to file a personal injury claim, you have to show that the other party acted in a negligent or reckless manner and that those actions were the cause of the accident and your injuries. In a case where you suspect that texting while driving may have been the cause, you do have several options available for proving fault. Your lawyer will handle the process, but some of the things that they will use include the following.

• Mobile phone records from the time of the accident
• Accident reports
• Witness statements
• Driver histories
• Black box data from the automobiles
• And more

Essentially, your attorney will put together your case for you and make sure to show that you deserve compensation. In some instances this leads to a quick settlement offer, and in others it may require going to trial. Either way, our team will be there every step of the way until you get the restitution that you are owed.

If you've been hurt in an accident that you know was caused by texting while driving, we're here to get you the restitution that you deserve. You have more rights than you might think, and we'll stand up to insurance companies for the other side and make sure you get what you deserve. Contact us today to learn more..