Six Steps To Take After A Slip And Fall Accident To Protect Your Rights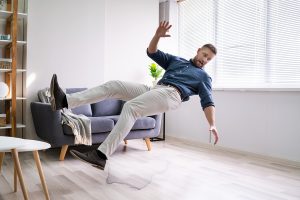 Michael Babboni

Premises Liability Slip and fall accidents are mostly unexpected, so they aren't something we can plan for ahead of time. However, if you slip and fall on someone else's property as a result of their negligence, you are owed compensation for the damages you've experienced. Yet oftentimes, property owners and their insurance companies will try to get out of paying compensation. Therefore, it is important to know what to do after a slip and fall accident to protect your rights. Here are six steps to take if you ever experience a slip and fall.

Seek Medical Attention Immediately

If you've severely injured yourself, nothing else matters more than getting the care you need. Call for an ambulance and seek medical care right away. All the other steps can wait. However, if you can, make sure to take the next steps to protect your rights after the fall.

Take Pictures Of The Scene

If possible, identify what caused you to trip and take pictures of it. Take pictures of the surrounding area, your injuries, and anything else that may be relevant to identifying what caused your accident. Photographs can be used as evidence for the cause of your fall and can help prove to the courts the extent of your injuries. Also, while you are inspecting the scene, check if there are any video cameras that could have captured the incident.

Identify Any Witnesses

Find out if anyone saw you fall. Typically after a slip and fall incident, witnesses will come help you. Make sure to get their contact information. They may be able to provide testimony concerning the details of the event. Ask about what they saw and try to take notes if you are not in too much pain. If you are with someone at the time of the fall, see if they can collect some statements from witnesses for you.

Take Note Of The Details Of The Incident

After you've sought medical treatment, write down everything you remember about the slip and fall incident while it is still fresh in your mind. Include any detail you can think of, no matter how small. The small things can often lead to big breaks in personal injury cases. You don't have to keep your thoughts organized—you can do that later. Just jot down everything you're able to recall.

File An Official Report

Usually, businesses will have you file an official report for their records. You can present your statement if you feel comfortable. Stick to the facts of the incident and remember not to admit to any wrongdoing because anything you say may come back to haunt you during your claim.

Speak To An Attorney

No matter the specifics of your incident, even if you feel you may have been at fault for the fall, you will always want to speak to an attorney. An attorney can assess the situation and make sure that your rights are fully protected. They will help you understand not only the validity of your personal injury claim but also what your claim is worth.

The St. Pete Lawyer, Michael Babboni, has been working to protect slip and fall victims for nearly 30 years in the Southwest Florida area. He knows exactly how to protect your rights after a slip and fall accident and will fight to get you the compensation you need to recover from your injuries. Give him a call today at 1-727-381-9200 for a free consultation..