Save Your Property From Slip And Fall Accidents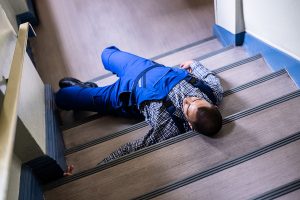 Michael Babboni

Premises Liability There is no "season" for slip and fall accidents in St. Petersburg. While the St. Petersburg area may not get the same frequency of snow or ice as other locations around the United States, that doesn't mean plenty of slip and falls don't happen here as well. A slip and fall accident can be minor and leave a person with no significant injuries, or it can be a devastating experience. Slip and fall accidents are directly responsible for more than 1 million emergency room visits throughout the United States each year, leaving injured parties with broken bones, lacerations, bruising, soft tissue injuries, traumatic brain injuries, and even fatal injuries.

No property owner wants their location to be the setting for a slip and fall accident. Some things that property owners around St. Petersburg can do to limit slip and fall accidents on their premises are:

• Clear clutter from the yard or lawn space – Whether you're a homeowner or a business owner, clearing debris and clutter from your yard or lawn space is one of the simplest and most effective things you can do to limit slip and fall accidents on your property. For homes, this could mean clearing away toys, tools, sticks, or other pieces of debris from your property. For businesses, this may mean clearing away building materials, landscaping equipment, litter, or sticks or branches. A debris-free space is a safer space.

• Have proper insurance – Business insurance or homeowners' insurance is a necessity in St. Petersburg if you don't wish to pay for any injuries out of pocket. Your insurance provider will be able to cover the damages for the injured person after a slip and fall has occurred. While this may lead to an increase in rates, this is typically more affordable than paying out of pocket to cover an accident victim's injuries and injury related damages.

• Fix concrete and brick – Homes or businesses that feature stone walkways and concrete sidewalks could become dangerous when these surfaces are neglected. While these walking surfaces do last a long time, it's not forever without regular maintenance. Fixing cracks or depressions in concrete and brick or stone helps to keep level, safe, and fall-free walking spaces.

• Have appropriate lighting – Failing to have appropriate lighting outside of a home or business property is another common cause of slip and fall accidents. Those walking on your property need to be able to see the ground beneath them as they're getting to and from a particular location, and if they can't this may lead to a slip and fall accident. Appropriate lighting is lighting that provides a sufficiently safe walking experience at night or in dim conditions.

• Secure rugs and tuck away cords – Rugs can make a property look more welcoming, inviting, and warm, but they can also pose some slip and fall risk. A rug that sticks up from the ground or moves when it's walked on can lead visitors to your property to become off-balance. Rugs should be secured to the ground beneath them to provide a steady walking area. Any cords being used for lighting, cleaning instruments, or tools should be tucked away from any walking spaces.

If You've Been In A Slip And Fall Accident

If you've been in a slip and fall accident on a personal or public property, it's of the utmost importance to get the compensation you deserve. Slip and fall accidents can lead to thousands or more in damages, missed work, and prolonged medical care. Finding a skilled and experienced St. Petersburg personal injury lawyer to represent you in your case gives you the best possible chance at the fair compensation you need to make a full recovery.