Recovering From A Motorcycle Accident Can Become Quite Costly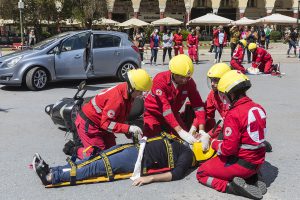 Michael Babboni

Motorcycle Accidents It is not uncommon to see numerous motorcycles on the Florida highways and streets, including right here in St. Petersburg. By all means, there is nothing wrong with hitting the open road on a bike. There is just something about the rumbling motor, whipping wind, and freedom that makes the endeavor worthwhile.

However, it is important for motorcyclists and drivers of other vehicles to remain aware of their surroundings at all times. After all, Floridians must share the roadways with one another, and the many tourists that are regularly in the Sunshine State too. Of course, there is no reason to knock the visitors as they help our magnificent economy thrive.

At certain times of the year, there are even more bikes around. Why? Well, there are lots of rallies held in Florida every year. Therefore, people come in from neighboring states to be a part of the bike weeks, charitable causes, and fundraising events. Not to mention, according to an article published by Daily Commercial, there are already 600,000 registered motorcycles in Florida.

Statistics About Motorcycle Accidents

Traffic crash statistics from Florida's Department of Highway Safety and Motor Vehicles shows that there were 9,707 motorcycle crashes in the state in 2017, 10,331 in 2016, and 10,201 in 2015. That equals out to a three year average of 10,080 accidents. These incidents led to fatalities as well as injuries. The report states that 515 people died each year in 2016 and 2017. In 2015, the events accounted for 546 lost lives.

As mentioned, death is not always the only motorcycle accident outcome, but it is a real possibility. People also sustain damages from the crashes. The FLHSMV document reveals that there were 7,725 injuries caused by these episodes in 2017, 8,256 in 2016, and 8,231 in 2015. Often, the wounds can be extremely severe. They regularly include but are not limited to things such as…

• Loss Of Limbs
• Burns, Lacerations, And Broken Bones
• Paralysis
• Whiplash
• Spinal Injuries And Traumatic Brain Injury

Some Common Causes Of Motorcycle Accidents

All sorts of things can be the culprit behind a crash. For example, road design and manufacturer defects are sometimes to blame. However, more often than not, the negligence or recklessness of another driver causes the accident and injuries. How? Well, there are various forms of negligent acts like...

• Distracted, Drunk, Or Drowsy Driving
• Texting While Operating A Motor Vehicle
• Speeding
• Failing To Obey Traffic Signs Or Yielding The Right Of Way

It May Be Possible To Obtain Compensation For Your Wounds

Each accident is unique and different, so the amount of compensation that a person may receive depends on what types of injuries they acquire. Also, the victim must be able to prove that the negligent actions of the other party caused the wounds. Hence, it is a good idea for the plaintiff to put a proven, reputable legal firm on their side. Insurance companies don't tend to have the injured person's best interests in mind. Rather, they are merely worried about not paying out a substantial settlement.

Our motorcycle attorney, Michael Babboni, is ready, willing, and capable of taking your case the distance. He has been practicing law in Florida since 1987. Thus, he knows how to navigate the complex legal system and deal with unfair insurance practices. The initial case review is free, and clients only pay if compensation is recovered. So, don't delay any longer. Instead, contact the St. Pete Lawyer and get the representation that you deserve..