Prescription Drugs And Auto Accidents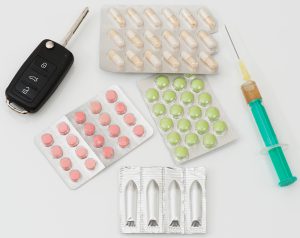 Michael Babboni

Car Accidents There is no question that America is in the grips of a crisis. Drug abuse has long been a major problem, but prescription drug use has become one of the biggest issues for every state. That's true in Florida as well, and every day a huge number of Florida drivers may be on the roads while intoxicated from prescription drug use.

A Major Issue

Drug abuse while driving is no small problem, either. Just look at a couple of the facts and figures related to prescription drugs and auto accidents to see what we mean.

• More than 1,300 drug related traffic crashes occurred in 2017 alone.
• Of those, 338 accidents involved fatalities.
• These numbers fail to include accidents where drugs and alcohol were combined.
• In other states, more than 60 percent of auto accidents involved prescription medications
• More than 25% of prescription medication related accidents involved drivers over 50.
• These accidents occur in every county, and may involve passenger vehicles, commercial trucks, motorcycles, pedestrians, and more.

Simply put, prescription drug use and auto accidents are far too common a combination, and combating this issue is incredibly important for authorities, other motorists, and more.

What Are Your Rights?

While being involved in an accident caused by a driver who is intoxicated on prescription drugs is frustrating, and while it can be difficult to know what steps to take after it happens to you, the fact is that Florida motorists do have rights in these situations.

Under Florida law, you have the grounds to seek financial compensation if you've been injured in an accident that was caused by the reckless or negligent actions of someone else. Things like speeding or texting while driving certainly count here, but another major example is when someone operates a motor vehicle while under the influence of drugs or alcohol – including prescription drugs.

If this was a cause of your accident, you may be able to file a personal injury lawsuit and start seeking compensation for your injuries. You may be able to receive compensation for financial issues like:

• Medical bills
• Future medical bills
• Lost wages
• Future lost wages
• Potential loss of earnings potential
• Property damage
• And more

Simply put, if you've been hurt in an accident of any kind, you may have the right to seek compensation for your injuries. However, you must be able to show that your accident was caused by the recklessness or negligence of someone else. And often, this is much harder to do than you might assume.

Getting What You Deserve

In order to get the compensation that you're owed, you'll usually need the help of a personal injury attorney. Showing that you're owed restitution means being able to prove that the other party acted in a way that was reckless or negligent and that those actions directly caused your injuries.

But the insurance companies and legal teams of the other side will do all that they can to prevent you from getting a dollar more than you're owed. They may use a variety of different techniques including things like stalling, forcing you to fill out endless paperwork, offering you settlement offers that are lower than you really deserve, and more.

Our team doesn't let that happen. We stand up to the legal teams of the other side and make sure that our clients get what they deserve. Instead of letting you get pushed around and bullied by the other side, our team fights for your rights to get you what you're owed. Contact us today to set up your free initial consultation and find out more about what your rights are and how our team of legal professionals could help you..