Pedestrian Safety During Halloween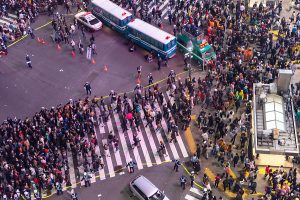 Michael Babboni

Personal Injury As September becomes a passing memory, we are now working our way further into fall. October brings Florida slightly better weather, more pedestrians, and, of course, Halloween.

So what can you do this year to better ensure pedestrian safety during that much-awaited day? Read on for some tips and helpful advice as we move into a new holiday season.

Even with the coronavirus still wreaking havoc in the United States, children are looking forward to trick-or-treating. In many areas, it is still something that is going to happen. Soon enough, children will be putting on their costumes and getting ready for a night out to collect candy and experience everything that the holiday has to offer.

With Halloween, we see a rise in child pedestrian accidents because of the increase in pedestrian traffic on Halloween night. There are far more children on the road than usual, and excited children forget safety rules. What's more, some costumes are darker and harder to see, and adults are partaking in festivities as well that can result in drinking and driving.

Read on to learn exactly how you can keep your child safe during Halloween.

Visibility

Always dress for visibility. Avoid wearing any dark costume or mask that will make it difficult for a driver to spot you or your child walking at night. You should also encourage your children to choose brightly colored costumes or wear some kind of reflective trim. Many people also use glow-in-the-dark wands, glow-in-the-dark face paint, and flashlights to improve their visibility.

Plan Your Route

Before you even step foot outside, plan your route ahead of time. Minimize street crossing as much as possible, and avoid even attempting to cross the street at any unmarked intersections. People recommend that you trick-or-treat down an entire road before making your way to the other side instead of hopping back and forth across the street.

Use The Sidewalks

Stick to the sidewalks whenever possible. If there are areas that do not have sidewalks, then teach your children to walk near the edge of traffic while facing traffic. Don't let them turn their backs to oncoming vehicles. They need to be completely aware of their surroundings, especially when sidewalks are not available.

Supervision

While some kids might want to venture out on their own, it is still a good idea to have some kind of adult supervision at all times. Children under the age of ten, for example, have poor peripheral vision, depth perception, and decision-making skills, which makes them more susceptible to accidents. Even some older children can become easily distracted when walking and messing around with their friends on Halloween.

Always Stay Alert

This brings us to teaching ourselves and our children to always stay alert. Don't bury your nose in your phone while your children are trick-or-treating, and don't let them run off on their own, either. It only takes a second for one distracted child to run across the street without looking both ways or step into the path of a car when there is no sidewalk.

Even with precautions and extra care this holiday season, accidents can and do still happen. If you are unfortunate enough to be involved in a pedestrian accident of any kind, then you may be entitled to compensation for your injuries.

To learn more, contact a seasoned personal injury attorney today. They will review your case and advise you on what steps you need to take moving forward..