One Aspect Of Car Crashes People Don't Always Think About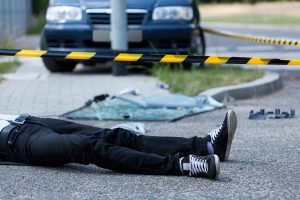 Michael Babboni

Car Accidents When persons close their eyes and envision auto accidents, images usually pop into their minds of two cars being involved in head-on, rear-end, or T-bone collisions. However, the truth of the matter is different things, aside from vehicles, can be thrust into harm's way. For these purposes, this article is going to focus on pedestrians getting hit by negligent or reckless drivers.

Unfortunately, these incidents occur much more often than most people believe. Research from Florida's Department of Highway Safety and Motor Vehicles indicates that there were 9,356 such accidents in 2018. They resulted in 7,935 injuries and 720 fatalities. Sure, wounds are possible, but more often than not, loss of life becomes part of the equation. Just take a peek at some of the recent headlines surrounding this topic in Florida if you need proof.

• The Florida Times-Union – Jacksonville Pedestrian Killed In Hit-And-Run Crash
• The Dayton News Beach Journal – FHP: Deland Man Walking On I-95 Hit And Killed
• First Coast News – Pedestrian Struck, Killed In Putnam County Crash On US-17
• Click Orlando – 23-Year-Old Pedestrian Killed In Osceola County Crash, Troopers Say

Wrongful Death Can Occur After Florida Car/Pedestrian Accidents

Family members might be able to file a lawsuit against a negligent driver to recover compensation after a loved one's passing. It must be proven that the motorist was reckless, though, which is easier said than done. That is where the St. Pete Lawyer comes into play. He has the experience and know-how to navigate Florida's complex legal system. To build a strong and persuasive case, the team will collect witness testimonies, cell phone records, security camera footage, police reports, and more. Additionally, the St. Pete Lawyer has an outstanding reputation in both the legal community and the insurance industry.

Thus, many times, claims are settled for a fair amount before his clients have to set foot in a court of law. Also, the firm has the means to take cases to trial if necessary. So, don't hesitate any longer. If you lost a loved one because of a vehicle operator's actions, give the St. Pete Lawyer a call today to schedule a free case review.

Why Might Persons Need Restitution?

To begin with, after a pedestrian gets hit by a car, he or she will usually receive some medical treatment. Things like an ambulance ride, surgeries, and doctor fees add up in a hurry. Of course, those bills don't just disappear due to one's passing. Rather, the expenses fall to their relatives.

They don't necessarily have to pay them, but if they fail to do so, the hospital could sue them to get the money. Therefore, if a motorist became distracted, drowsy, or something else while behind the wheel and killed your loved one, it is in your best interest to hire an attorney. The professional will fight tooth and nail on their behalf to recover the restitution that they deserve. Then, family members won't have any trouble paying for the rendered medical treatments.

Plus, it is not cheap to plan and pay for a funeral today. Most research points to an average, no-frills funeral costing between $7,000 and $10,000 these days. That is not merely chump change that can be found beneath car seats or couch cushions. Instead, it is a substantial sum that can cause loved ones to have to take out loans, which can put them in financial binds when it comes to paying them back. Luckily, there is a way around this, though, fighting for compensation. So, contact our office to see where your claim stands and put a proven, winning commodity by your side..