Motorcycle Accidents Are Possible In St Petersburg During All Times Of The Year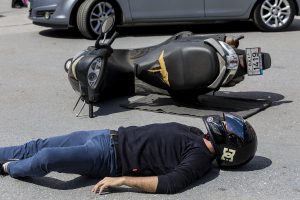 Michael Babboni

Motorcycle Accidents Many areas around our great nation become plagued by snow and ice during the winter months. Florida offers ideal weather for riding a scooter, motorcycle, or bicycle at almost any time. Tourists come to St Petersburg from all around the globe, and residents must stay on their toes to prevent accidents from occurring. These people do not always know the locale, and it is not uncommon to see another driver dash across multiple lanes of traffic to reach their exit. Not all pedestrians and cyclists are aware of appropriate safety practices, and they can easily walk, or ride, into oncoming traffic if they are not careful. We are right in the midst of the holiday season, which means more and more visitors will be headed our way to stay with friends or family. Additionally, charity events like bike rallies or runs are scheduled to raise presents for less fortunate children. These are good things, but to keep them from turning ugly quickly, all drivers must drive defensively.

Even with helmets, vests, and other safety equipment, motorcycle riders are more exposed than car operators. Anyone that has ever been involved in laying their bike down and sustaining road rash can attest to that statement. Injuries might include...

• Lacerations or other skin ailments
• Neck or back injuries and even paralysis
• Broken and fractured bones
• Traumatic brain injuries
• Lost limbs such as an arm or leg

Riders often put forth the effort and buy brightly colored clothing that makes them highly visible, but the motorcycles are so small that they easily get lost in vehicle blind spots. While switching lanes, a car can hit the bike causing a crash. Damages can be received, on both ends, but it is likely that the motorcyclist will obtain the majority of the more severe injuries. There is nothing like riding down the road with the wind whipping through your hair, and together we can make our roadways safer by just remaining aware of our surroundings.



Injuries Caused By Negligence May Entitle The Victim To Compensation



Obtaining wounds can be harmful to a person both physically and mentally. The doctor visits, physical therapy appointments, and prescription costs associated with reaching a recovery are overwhelming. They put additional anxiety on top of what is already a stressful situation. Contact our office at 727-381-9200 if you become injured by a reckless driver. We offer free case reviews, and personal injury cases are billed on a contingency fee basis. These things mean that there is very little to lose on your end, and only monetary gain to be won for offsetting medical expenses. Our accident attorney has the experience and know-how to put a plan together, especially for your situation, with the best chance to win. He has represented many clients in the St. Petersburg area over the years, and if the consultation proves the case to be a good fit, he will be more than happy to serve you too..