Limitations Of Florida Personal Injury Protection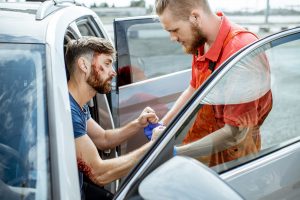 Michael Babboni

Personal Injury The key feature of personal injury protection (PIP) insurance is that it entitles you to receive $10,000 (or more, if qualified) from your insurance company whether or not you are at fault in an auto accident. As opposed to liability laws, which put the responsibility for an accident on only one driver, Florida no-fault laws make both drivers share the fault in an accident. Auto accident lawyers can help with these cases.

With Florida counties having the highest number of auto accidents in the United States, the no-fault law has been helpful to many Floridian accident victims. Early in the previous decade, however, fraudulent PIP claims increased. The National Insurance Crime Bureau found that several cities in Florida reported the highest amounts of "questionable claims" compared to the rest of the country. In 2012, this prompted the state to legislate House Bill-119 – Personal Auto Insurance Fraud, which makes notable changes to PIP laws. If you are a vehicle owner or driver in St. Petersburg, Florida, you must be aware of PIP's coverage as well as its limitations.

The 14-Day Rule

In any accident that may cause personal injury, you are advised to seek help or treatment immediately. Doing so serves your best interest medically and legally. If you do not get medical treatment within two weeks of an accident, your coverage will be forfeited. The 14-day rule aims to limit the claims filed in Florida courts while also establishing a sense of urgency in accident victims.

Before you think about which expenses are covered by PIP, you must first act during the crucial period prescribed. You may prove the legitimacy of your injury by consulting any of the following:

• A licensed physician
• Licensed osteopathic physician
• Licensed chiropractic physician
• Licensed dentist

The treatment "must be rendered in a hospital, a facility that owns or is owned by a hospital, or a licensed emergency transportation and treatment provider," according to CS/CS/HB-119. Provided that you follow protocol or consistently get treatment, there are many options available to you after an accident.

Emergency Medical Condition

If you followed the above protocol, the next thing to determine is whether you are entitled to receive the full benefits under PIP. The law states that to get $10,000 in PIP benefits, you must have an emergency medical condition. Florida Standard Assessments (FSA, sec. 409.91) uses this definition:

"A medical condition manifesting itself by acute symptoms of sufficient severity, which may include severe pain or other acute symptoms, such that the absence of immediate medical attention could reasonably be expected to result in any of the following: Serious jeopardy to the health of a patient... Serious impairment to bodily functions… Serious dysfunction of any bodily organ or part."

In addition to the medical professionals listed above (except for chiropractors), a physician's assistant or an advanced registered nurse practitioners are allowed to determine if a patient had an emergency medical condition. If you are unable to qualify without an emergency medical condition, you are still entitled up to $2,500 in PIP compensation. Learn more about the coverage of Florida personal insurance protection by getting in touch with The St. Pete Lawyer today.