Is This Fire Hazard Inside Your St. Petersburg Home?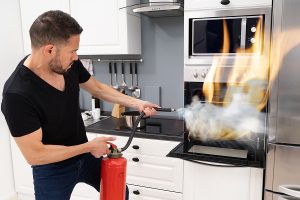 Michael Babboni

Premises Liability Most people don't like doing chores, and who can blame them, really? After all, there are only so many times you can wash the dishes, vacuum, mop, and do other stuff without getting burned out. That's why many of us invest in appliances to help with the cleaning duties and make our lives easier. For instance, perhaps you have a robot vacuum scurrying around the house, picking up dirt and debris off the floor.

Then again, maybe you keep things simpler with appliances like a washer, dryer, and dishwasher. Having those units on-site can save you time and help you get done with your chores quickly. However, we are actually here to discuss an issue that some dishwashers might have. Thus, if you have one of these devices in your home, you'll want to pay close attention to the next section. Why? Because knowing this information might help you avoid injuries or death, that's why. So, without further ado, let's dive into the discussion. 



Our Recent Discovery

Recently, we discovered a little something about Cove Appliance 24-inch built-in dishwashers that we felt should be shared with you. These items may have heating elements that do not shut down correctly and overheat. That doesn't sound too horrific, but the situation could turn that way in a hurry because this issue poses a fire hazard. The organization stems from Wisconsin, but these appliances could be pretty much anywhere because they were sold at home appliance retail locations nationwide.

Yep, that means there could even be one inside your St. Petersburg home. If you want to check, look for the model number DW2450 or DW2450WS on your dishwasher. Where can this info be found? That's a good question, and the answer is printed on a rating plate inside the machine. Did the model number check out? If so, now move onto the serial number, also printed on the plate, and it should be 20000100 through 20044445 if you have one of the 42,000 dishwashers in circulation that might pose a fire hazard.

Has A Dishwasher Or Another Defective Product Hurt You?

If flames ignite because of this dishwasher issue, burns and smoke inhalation could become concerns. Not only that, but if a fire happens while homeowners are sleeping, family members could lose their lives. Did your dishwasher catch fire before hearing about this problem here today? Yes, and did you receive severe burns or other injuries in the event? If that answer is yes also, you might be entitled to fair compensation for your damages.

What about a loved one's death? Did a fire originate at the dishwasher and claim their life? If so, and you're a spouse, child, parent, blood relative, or adoptive sibling who relied on them for support, you may have the grounds to seek compensation as well. Those that believe they have legitimate claims should reach out to our firm for a free case review with our personal injury attorney, The St. Pete Lawyer, Michael Babboni.

He'll listen to your side of the story and be able to determine whether you have legal avenues to pursue or not. If you do, the attorney will explain them, and you may choose to retain his services. Don't worry, though, because you still won't need to pay anything, at least not right now. Clients with personal injury lawsuits only owe fees when they win, and compensation is awarded or recovered. So, don't delay any longer. Instead, put the St. Pete Lawyer to work, fighting for what you deserve..