Injured Near a Construction Site? Here's What You Need to Know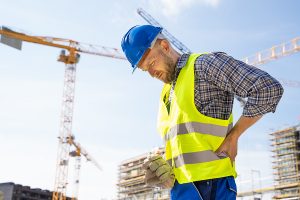 Michael Babboni

Premises Liability Construction is undoubtedly one of the more dangerous industries because of the potential and often preventable safety hazards a career in this field poses.

According to information from The Occupational Safety and Health Administration, the fatality rate of construction workers is higher than the national average rate for all industries combined.
However, it isn't just the construction workers that can fall victim to these hazards. Pedestrians and other passers-by can also find themselves becoming injured due to a construction accident.

Following this type of injury for a non-employee, you may be able to seek compensation for medical costs, lost wages, stress, pain, and suffering, and more, depending on your injuries and the severity of those injuries.

Construction employees are covered under Florida workers' compensation laws, but what about passing pedestrians or drivers?

Injured Pedestrian

If you were passing by a construction site and became injured on or near the site, then you may be able to file a personal injury claim. These types of cases are often the result of negligence on the part of the construction site and workers.

In this kind of personal injury case, some of the liable parties can include the construction company, construction workers, contractors, subcontractors, the property owner, a third-party company, or a manufacturer.

Construction Site Responsibilities

Construction sites must adhere to the rules and regulations stipulated by The Occupational Safety and Health Administration (OSHA). However, these regulations are not always followed as they should be.

A few of the responsibilities for a construction site include posting clear and visible warning signs around the site, fencing off the construction zone, and keeping all machinery, equipment, and other materials inside the site at all times.

Additionally, nets should be added to areas more prone to falling objects, and scaffolding and fencing must be properly constructed to help avoid injury and accidents.

Possible Injuries

If these safety rules and regulations are not followed, accidents can result in head injuries, broken bones, lacerations, bruising, back injuries, and internal bleeding. If you have been injured on or near a construction site, you must seek medical attention immediately, take pictures of the scene of the accident, ask for witness statements, document all your injuries, and avoid speaking to the liable party's insurance company.

Instead, contact a personal injury attorney to discuss your case. They will help guide you through the process and help ensure you receive the compensation you are entitled to due to the negligence of those working on the construction site.

Are You an Employee?

If you are an employee of the construction site and become injured while on the job, then worker's compensation is the coverage you would go through for your injuries. Personal injury cases for construction site accidents are more for non-working employees who become injured on or near the site.

If you aren't sure what documentation to provide or if you even have a case at all, your personal injury attorney will review everything and tell you what needs to be done moving forward.
Don't wait to file your claim. Medical bills can mount, and you can quickly find yourself drowning in debt due to the negligence of another..