How to Hold Bad Drivers Accountable After a Pedestrian Accident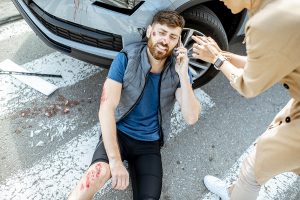 Michael Babboni

Personal Injury Did you know that the Sunshine State is actually considered one of the deadliest when it comes to pedestrians and accidents? Out of 15 of the most dangerous cities for pedestrians in the United States, Florida is home to nine of them.

Pedestrian Dangers

So, why is Florida so dangerous for pedestrians? When we design our streets, we prioritize the design to benefit motor vehicle speed and a faster traffic flow. This is at the expense of others sharing the roadways, including pedestrians, bicyclists, and public transportation. Speed is prioritized over safety, putting many people in danger.

The side of the road has proven to be one of the most dangerous areas for a pedestrian because drivers may not be paying attention to the edge of the road and may not see a pedestrian there. One small mistake or turn could ultimately result in a collision between a motor vehicle and a pedestrian.

Pedestrians need to learn how to walk defensively rather than just walking with safety and assurance in mind. In many pedestrian accidents, you will find similar conditions like nighttime in an urban area instead of at an intersection.

Risk Factors

To help determine the level of risk involved as a pedestrian, here are a few risk factors to consider:

Age

Children and the elderly are more at risk of becoming involved in a pedestrian accident. Those over the age of 65 have a much greater chance of being struck and killed, with children not far behind. More than a quarter of pedestrian accidents in the past have involved children ages 16 and under.

Speed

The faster someone drives, the greater the chances are that the driver will lose control of the vehicle and hit another vehicle, a pedestrian, or destroy property. Many pedestrian accidents involved cars traveling at speeds greater than 40 mph.

Crosswalks

Pedestrians use crosswalks, thinking they are the safest way to cross the street. However, you should never assume that a motorist will automatically stop for a pedestrian because they are in a crosswalk. Motorists have been found more likely to hit a pedestrian on roads with two lanes and a crosswalk than a road without a crosswalk.

Driver Accountability

So, how do you hold bad drivers accountable after a pedestrian accident? It can be complicated due to the state's no-fault auto insurance law. However, a pedestrian is not required to carry PIP coverage as a motorist has to. If they have a vehicle with this coverage and they were hit as a pedestrian, they may still be able to take advantage of that coverage, even if they weren't in their car at the time of the accident.

If they don't have PIP coverage because they do not own a vehicle, they may also file a claim with a relative who owns a car and has PIP coverage. If none of these scenarios works, then a third possibility is for the pedestrian to file with the driver's insurance company; however, if you are a non-Florida resident, this may not be an option for you.

Health Insurance Coverage

Your health insurance coverage may also cover a portion of the medical bills. However, if the driver was shown to be at fault for the accident, then they are going to be held responsible for the costs of the medical bills, including other associated costs that accumulate due to lost wages, pain, and suffering, emotional suffering, and more.

As you can see, there are ways you can hold a bad driver accountable for a pedestrian accident.