How St. Petersburg Salon Injuries Can Lead to Lawsuits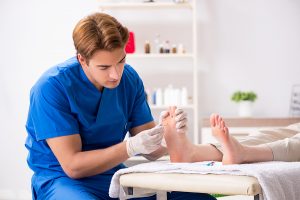 Michael Babboni

Premises Liability Florida salons and spas are favorites for many locals looking for a way to pamper themselves. The operators and owners of these establishments have a responsibility to follow all professional guidelines as well as best practices when it comes to how they use products and conduct business. They want to avoid putting a client at risk of any physical harm.

However, accidents do and can still happen. Here is how some Florida salon injuries can potentially lead to lawsuits and the fault of the salon owner and operators.

Examples of Common Salon Injuries

Here is just a small sampling of some of the more common injuries that can occur in a salon or spa in Florida as the result of negligence:

• Burns from certain processes including chemical, laser, heat, and wax
• Cuts from clipping shears, nail clippers, filing tools, or scissors
• Scalp injury that leads to scarring and/or permanent hair loss
• Bacterial infections
• Staph infections
• Injuries to the neck and back
• Slip and falls

However, when it comes to salon claims, they don't typically make it through the initial phase of the claims process unless serious injuries were involved or there is a clear cut claim of liability against the owner or operator of the salon.

The Florida Department of Business and Professional Regulation

Salon owners and operators must adhere to the guidelines and standards for cleanliness as laid out in the Florida Department of Business and Professional Regulations. According to the law, if these standards are not followed and injuries result, there could be a serious negligence claim.

If a preventable error leads to the injuries, the salon owner, operators, or employees can be held liable for those injuries. This kind of personal injury claim is often filed as a negligence claim in civil court.

Insurance Coverages and Limitations

Some day spas and salons carry liability coverage. If it was negligence that caused a serious injury, then most of the claim is more than likely going to be paid under the commercial general liability coverage the salon or day spa holds. It can also be covered by its professional liability coverage. Some claims that may fall under this coverage include slip and falls and falling out of a salon chair, just to name a couple.

When it comes to professional liability coverage, most salons or spas have a $1,000,000 and $3,000,000 per occurrence limit for their insurance. So, if someone suffers serious injuries, under this coverage, the insurance company would pay $1,000,000 per person and $3,000,000 per incident.

You will find that many personal injury claims fall far below the $1,000,000 mark, so the coverage limits for salons or spas will rarely turn out to be an issue.

Coverage for Medical Payments

Medical payments are what pay the injured client's medical bills. These bills are paid out according to coverage limits. This kind of coverage also pays out regardless of fault. The limits for this are much smaller and usually total only $2,500 to $5,0000.

What Causes the Most Personal Injury Claims?

Now let's take a quick look at what day spa or salon operations actually cause the most personal injury claims.

Some of these services include aromatherapy, body massage, piercing, body wraps, cosmetic applications, electrolysis, facial scalp massages, hydrotherapy, manicures and pedicures, microdermabrasion, teeth whitening, and waxing, among many others.

Chemical peels are also a service that puts clients at especially high risk. In some cases, the spa will use a level with too much acidity when doing the facial. This can cause the client serious injury and result in a personal injury case.

If you have been injured due to the negligent acts of a salon or day spa in Florida, you may have a personal injury claim. Consult with an experienced Florida personal injury attorney, and they can help determine how much compensation you are entitled to for your injuries..