How Long Will It Take To Settle My Personal Injury Claim?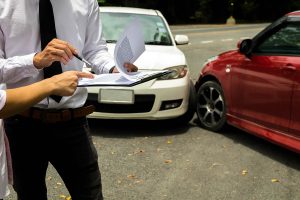 Michael Babboni

Insurance Coverage When you've been injured in an accident, your bills will start piling up fast. Between all your medical expenses including doctor visits, treatments, therapy, and prescriptions, and losing income from missing work, you may find yourself buried in debts. It doesn't help that bill collectors don't have any patience and will expect you to pay right away. In these cases, you will feel like you need your settlement to go through quickly. However, that is what the insurance companies are counting on.

Insurance Companies Love Fast Settlements

Insurance companies know that accident injuries are expensive. They also know that even people who were well off prior to the accident, rarely have the resources to pay for their expenses. They are banking on the fact that faced with these financial pressures, you'll want to settle quickly. Insurance companies are in the business of making money and they don't want to pay out anything for settlements. So one of the most common tactics they use to pay less is to bank on your financial pressured. They know that if your resources are drained and you are stressed about money, they can get away with paying you less.

Fast Settlements Are Low Settlements

Most insurance companies would settle the day after the accident if they can. They know that immediately following an accident, the severity and impact of your injuries has not been fully understood. They also know that once you accept a settlement, you can't ask for more money no matter what happens in the future as a result of your injuries. Here's an all too common scenario that we see:

Imagine you're in a car accident and you slip a disc. You take a fast settlement to cover the costs of hospital visits and physical therapy. However, you have a very physical job and now you've found you can't do your normal work. So you have to find different employment that pays less money. You also have to drive all over town now to see orthopedic specialists, chiropractors, and physical therapists.

Cut to a year after the accident, now suddenly you're having severe issues with mobility, you're losing bladder control, and have a strange sensation in your legs all because of the slipped disc. Each of these issues require more money to fix, but you've already burned through your fast settlement on the initial round of treatments.

The insurance company gets off easy in this situation. Even though all of these expenses were the result of the accident, you can't get more compensation after you settle. The insurance companies love this situation because it saves them money. So they will always push to settle fast, because they know if you do, you'll settle for less.

Never Settle For Less Than You Deserve

The best way to get a full and fair settlement, is to work with a personal injury attorney. This process may seem to take a long time because it takes many steps to prove the severity of your injuries and negotiate a fair settlement. However, taking your time means that in the end you will receive more compensation and get the full amount you deserve. It can be hard to have patience through this time when all the bill collectors are calling. Fortunately though, you have options.

There are plenty of programs like medical liens, Florida's PIP laws, and payment plans that can help. Your attorney will work with you on these to get you through this tough period until you get the full settlement you deserve.

Clients often want to know how long a case will take and that's fair. You need to know so you can plan your future and pay your bills. However, each case is different, so there's no firm timeline. However, if you take your time and have patience, you can get the full amount you deserve so you don't face financial hardship down the line. Michael Babboni, the St. Pete Lawyer, can help. He works one on one with all his clients to make sure that not only will they get a fair settlement, they can get the medical care when they need it regardless of the settlement process. Give him a call at his St. Petersburg office at 1-727-381-9200. He will review your case for free and go over your options to make sure that you get the care you need until your full settlement comes through..