Gathering Evidence After A Car Accident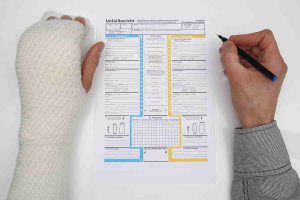 Michael Babboni

Car Accidents Having the right evidence that can make all the difference in the outcome of your car accident case. After a car accident, you want to do your best to build your case for an insurance claim or injury lawsuit. The more documentation and evidence you have to support your claim for damages, the more likely you will be able to obtain a settlement or verdict in your favor.

The Burden Of Proof

The insurance companies know that the burden of proof in obtaining recovery compensation after a car accident case lies with the person who is seeking damages. That means that the party that is injured, also known as the plaintiff, bears the burden of establishing that the other driver was at fault in causing the car accident and that the plaintiff suffered injury and damages.

In order for you to meet the burden of proof, it is necessary that you substantiate all of your claims with evidence that supports your version of events leading up to the accident as well as your claims for physical injury and lost wages. However, evidence can come in several different forms and may include medical bills and records, photographs, witness statements, police records, and possibly even weather reports for that day in particular.

Evidence From The Scene Of The Accident

Even a seemingly minor car accident may be a disorienting experience for you. After an accident, you need to check on the well-being of your passengers as well as any other drivers and call paramedics immediately if there are any obvious injuries that may need care.

Regardless of the severity of the accident or injuries, you should always call the police and wait for a report to be made. Having a police report created at the time of the accident is extremely important in understanding who was at fault in an accident.

You also need to take this time to gather all pertinent evidence at the scene of the accident. This includes gathering the name, address, driver's license number, vehicle plate numbers, and insurance information from all other drivers involved in the accident.

Additionally, if there are any witnesses to the accident, gather their names and contact information as well. Make sure to take pictures or ask a witness to do so with a camera, including a cell phone camera, to have visual evidence of the accident and any damage that took place.

Evidence of Damages

In the majority of car accident cases, the most significant portion of recovery is compensation for damages to personal or physical property. Gathering all records in relation to car repairs and rentals can help you ensure you receive the right amount for the damages this accident cost you. Even more important, if you were physically injured during the accident, you need to gather all medical bills including the cost of your treatment, therapy, doctor visits, and possible the surgery necessary for you to heal after your accident. With medical bills being as expensive as they are, you really want to make sure you get as much financial help with them as possible.