Florida Cities are the Most Dangerous for Pedestrians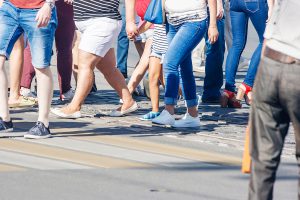 Michael Babboni

Personal Injury Pedestrian fatalities are high with only a slight decrease between 2017 and 2018. At one point or another, we all become pedestrians so knowing how to remain safe while also raising awareness for the many dangers pedestrians face is important to keep these numbers going down.

There were approximately 5,977 pedestrians killed in 2017. On average, a pedestrian was killed every one and a half hours in 2016, so you can see how dangerous being a pedestrian can be.

The Basics of Pedestrian Safety

While you may already think you are familiar with the basics of pedestrian safety, it never hurts to refresh. First, always be predictable. Follow all the rules of the road and obey all traffic signs and signals that you come across. If there is a sidewalk available, then that is where you need to be walking.

Never become distracted. Always stay alert and very aware of what is going on around you. Never count on other people to pay attention to you or even see you.

If a car is approaching when it is supposed to be safe for you to cross the street, then you should assume they don't see you. Try to make eye contact with the driver to be sure.

Finally, always remain visible. Wear bright clothing during the day and reflective materials at night. If it is dark, stay to well-lit areas to improve visibility. Always watch for cars coming in all directions and be cautious at all times.

The Most Dangerous for Pedestrians

New reports are showing that Florida cities are proving to be the most dangerous for pedestrians in 2019. One such report was focused on the Central Florida area. Florida has currently seen the highest rate of pedestrian deaths which shows that the streets are not becoming any safer.

Data from the Fatality Analysis Reporting System on crashes were examined, and the information collected between 2008 and 2017 ranked the metro areas of Florida using a pedestrian danger index. Almost 50,000 pedestrians and non-motorists were killed across the entire country, and over 5,000 of those reported deaths occurred in Florida.

Dangerous Cities in Florida Ranked

The list of the most dangerous cities in the United States for pedestrians showed that Florida contained the top five with a total of eight cities landing on a list of twenty of the most dangerous cities. The Orlando-Kissimmee area came in at number one and is closely followed by Deltona, Daytona Beach, and Ormond areas, and then Palm Bay, Melbourne, and Titusville areas.

Improving the Numbers

Lawmakers and officials are now looking for ways to make the roads safer for pedestrians, and some road improvements may be in order. More time and funding is recommended for these roadway improvements and other improvements for street design standards.

Staying Safe

In the meantime, as a pedestrian in Florida, it is important to remain as safe as possible during your commute. Following the safety guidelines outlined above are definitely a good start. If you find that you followed all the safety guidelines, but were still involved in an accident, then you may be entitled to compensation for your pain and suffering.

Following the accident, seek the experienced counsel of a knowledgeable personal injury attorney to help explain your rights and what you can expect from the claims process following your accident.