Filing Charges Against Defective Products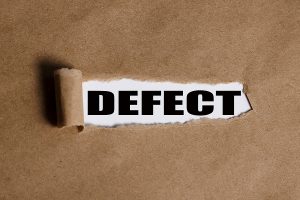 Michael Babboni

Law It is always the responsibility of a manufacturer to make sure that the products they are producing is nothing but safe and secured. However, there are cases when unfortunately, product defects make it past quality control or are discovered much later after they are rolled out. In these situations, the harmful effects of defective products may have already taken place and you might just be one of the victims.

Suffering injuries from using a defective product does not need to end in silence and acceptance. In fact, you can file for a personal injury lawsuit against the manufacturer and demand rightful compensation.

There are three types of product defects to consider when filing for personal injury charges.

• Defective Product Design – Poor product design can do harm to users. When creating a product design, manufacturers should put safety at the top of their priorities before thinking about aesthetics and physical appearance. When manufacturers are more focused on making their products look desirable to people, the safeness of the design may be overlooked. The realization of having a defective product design comes in late and by then, injuries may have already happened.

For example, furniture with unequal leg measurements may look aesthetically pleasing but can cause accidental falls when actually used.

• Failure To Provide Product Warnings – Manufacturers cannot leave it to the people's common sense and knowledge to fill in the blanks when it comes to their product warnings. These warnings are often placed in the product packaging so that they are seen easily. They can also come in the form of written instructions on how to use a product and who can use it.

Failure to provide adequate warnings can cause serious harm such as toys that can be a choking hazard to children, or cosmetic products that are harmful to sensitive skin types.

• Defective Manufacturing – Faults in the manufacturing process can happen during the process itself and can be overlooked. This means that while a product has been design with all safety precautions considered, problems with the machine or human error can cause fault to a product while it is being made or packed.

For instance, unnoticeable cracks may have formed during manufacturing. These cracks can inflict wounds and even serious infection to the user. Another example would be unknown substances and objects can enter the packaging of a food product right before it was sealed. This can be a potential harm to a consumer's health.

There are also other things that you have to take note of before proceeding to file a complaint against a defective product.

• Time Limit – Under Florida law, you are allowed to press charges against the manufacturer of the defective product within four years after the discovery of the defect and when it caused injury.

However, there is also a law that can potentially save manufacturers from facing the charges against them. In Florida, you can no longer file a lawsuit against the creator of the product if 12 years has already passed since its first purchaser received the item.

• User Negligence – Filing a lawsuit against product defects will subject the case for investigation. Once the court finds out that you are partially at fault for the injuries you sustained, you may be subject to partial compensation only, depending on the percentage of the liability. If you are found responsible for half of the damages, you will be receiving only half of the intended compensation.

Pressing charges against defective products can be tricky so it is recommended to get help from professionals who knows the ins and outs of these kinds of cases. The best you can do is to contact a personal injury lawyer who can help you deal with your case..