Do Rideshare Companies Cause a Rise in Auto Accidents?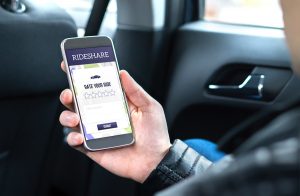 Michael Babboni

Car Accidents Rideshare companies like Uber and Lyft have been gaining in popularity in recent years as more and more people are choosing not to drive their own cars or purchase their own. These kinds of services are a convenient and affordable option for people to get where they need to go and are an alternative to a traditional cab or rental car service.

Just like with anyone else driving, these rideshare drivers are also involved in their fair share of accidents. Also, like with any collision, these accidents can cause a significant amount of damage and injury to those involved.

When litigating these kinds of accidents and personal injury cases, however, you will find that the process is much more complicated than average cases. For this reason, it is recommended that you find an experienced personal injury attorney that can help you throughout the claims process and explain each step as you go.

Commonly Asked Question

One of the most common questions, when involved in an accident with a rideshare service, is: can I sue the driver? The legal options that are available to you following this type of accident aren't as clearly defined as they are for any other accident not involving a rideshare service and driver.

Since these services do not use company cars and instead use their own privately owned vehicles, they are considered independent contractors which also makes the issue of having the right insurance coverage a little complicated as well.

Accident Liability Insurance Coverage

Rideshare companies offer their drivers a one million dollar liability policy in case they are involved in an accident. With this policy, both the driver and the passenger(s) are covered depending on what caused the accident to happen in the first place.

The insurance policy they are given is called a three-part insurance plan. The policy is not effective if their driver mode is turned off so if the accident occurred during this time, then the driver would have to reach out to their own personal insurance company.

In the same respect, if a passenger was injured when the driver had driver mode turned off, then they will have to seek compensation through the driver's personal insurance policy rather than the policy provided by the rideshare company.

Contingent liability also exists in case the driver is in service and gets into an accident as they are waiting for their passengers. This coverage is typically $50,000 per person with a maximum allowable amount of $100,000 per accident. It covers the difference if the driver's personal insurance plan is not enough or won't cover the accident.

Finally, the liability coverage will also cover the driver and their passengers at the time of the accident. If the other driver involved caused the accident and they didn't have enough insurance to cover the damages, then the rideshare insurance policy will cover the cost.

Suing Following a Rideshare Accident

As you can see, you may be dealing with several different insurance companies in the case of an accident. You will have to go through your own insurance, the driver's personal insurance, as well as the ridesharing company's insurance. If you have been injured or there are damages as a result of the accident, then you should seek the counsel of an experienced attorney to help you navigate the claims process, so you receive fair compensation.

They possess the knowledge and skills that are needed to deal with several insurance companies at once and help keep the process as uncomplicated as possible..