Did You Run Right Out And Buy Or Rent An RV After The Pandemic Began?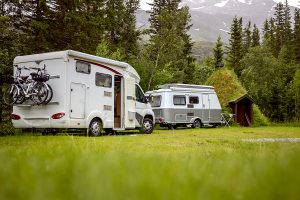 Michael Babboni

Recalls RV sales and rentals have increased substantially over the last few months. People probably feel as if they can get out and see the world in them while staying safe. To tell the truth, it actually sounds like an okay plan. They can eat, sleep, and social distance, thanks to the units. That means people don't have to stop at crowded hotels, restaurants, or other places. The only thing they will need to worry about is filling up the gas tanks and maybe purchasing groceries if they didn't bring enough of them.

Folks may choose to take the recreational vehicles camping at lakes, beaches, or campgrounds. Then again, they might use them to check out Mt. Rushmore, Old Faithful, or the Grand Canyon. Heck, some people might park their RVs outside family members' houses to visit but stay safe while doing so. Regardless of where Floridians want to go, or what they wish to do, they might want to reconsider if they own one of the RVs that will be discussed here.

An Increased Risk Of Crash Or Fire

Keystone RV Company is set to begin recall number 20-385 on October 19, 2020. The wrong bolts could have been used to secure the vehicles' auxiliary fuel tanks during the manufacturing process. They might be grade 2 bolts instead of grade 5. As such, the straps can loosen, and the tanks can detach, which can spell big trouble. If this issue occurs, it increases the risk of a vehicle crash and fire. There are 119 potentially affected units. The ones in question are...

• 2021 Fuzion Recreational Trailers – Models 357, 369, 373, 379, 419, 424, 427, 429 and 430
• 2021 Impact Trailers – Models 343, 359, 367 and 415

People who own these trailers should be careful. Heck, they may even want to leave them parked until the issue is resolved. Folks that take the units out could be in for big surprises and not good ones. If a crash occurs, or a fire breaks out, individuals will have an excellent chance of sustaining severe injuries.

Why Floridians Should Contact The St. Pete Lawyer

Manufacturers are responsible for the damages that their defective products produce. Victims can file lawsuits against the companies to recover compensation. Once a vehicle has been recalled, the person must prove that they did not have prior knowledge of it, or that the injuries occurred before the recall was issued. That can be quite the tall order for plaintiffs taking on the corporations alone. After all, they almost always have legal teams on retainer, just waiting to discredit injury claims and make them disappear.

Thankfully, citizens of the Sunshine State don't have to tackle these matters on their own. Instead, they can employ the services of the St. Pete Lawyer. Michael Babboni began practicing law in Florida in 1987. He has the experience and know-how to take on manufacturers and get victims the compensation they deserve. Please do not hesitate to give the office a call if an RV or recreational trailer leaves you hurt, scared, and feeling alone.

The initial case review is free, which is a huge plus, as everybody seems to be struggling a little bit right now because of the economic impacts brought on by COVID-19. Nobody wants to empty their bank account just to find out if they have a legitimate claim. Our clients only pay when compensation is awarded, but still, the money does not come out of pocket. Rather, a percentage of the winnings is deducted to cover legal, medical, and other fees.