Did You Get Into A Wreck With A Reckless Or Negligent Driver In St. Petersburg Who Now Claims They Did Nothing Wrong?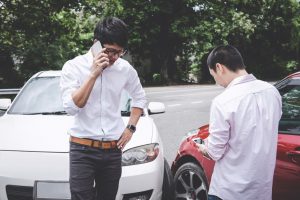 Michael Babboni

Car Accidents Auto accidents happen all too often in Florida, including right here in our very own St. Petersburg. Negligent and reckless drivers often cause the events to unfold. For example, texting and driving is something that should never happen, but it does. Motorists take their eyes off the roadways to read correspondences. Then, they sometimes strike cars, parked and moving, pedestrians, bicyclists, etc.

Then again, another example of negligence would be getting behind the wheel of a motor vehicle while intoxicated. Yes, even though people have been taught the dangers of driving under the influence, some of them still get buzzed and attempt to drive. Drunk drivers speed, drive under the speed limit, swerve, and much more. When they're on the streets, bad things tend to happen. For instance, they can hit motorcyclists, cyclists, or pedestrians, injuring or killing them in the process.

Were you recently involved in an accident that wasn't your fault? Was the driver negligent in some form or fashion, but now he/she claims that they were not? If that's the case, you need a top-notch auto accident lawyer in your corner. The professional will help you prove that the other party was, in fact, reckless and hold them accountable for their actions.

Why File A Lawsuit Against A Negligent Driver

There's a goods chance that you could be entitled to compensation if you're injured by a negligent driver. Victims often need money following car crashes because they get seriously injured and find themselves needing expensive medical procedures. People's vehicles also get damaged in these events. Hence, they must pay to repair or replace them. And what about work? Many individuals cannot work when severe injuries enter the picture. Thus, they stop earning paychecks.

Meanwhile, if a family member dies in a auto accident. That could present financial challenges for surviving relatives, as they might have to spend their hard-earned cash on medical bills and final expenses. The funeral itself won't be cheap. Research shows the average cost for a funeral in Florida is $6,079. Of course, the price will vary, though, depending on different factors. So, in reality, it could run you between $2,775 to $16,230.

A Lawyer Will Support Your Position

Those at fault in accidents don't always tell the truth once things get going. Instead, they tell little fibs or do not say much at all, to make themselves appear innocent. That's why car crash victims need attorneys. These professionals and their fellow team members collect evidence to build cases that support the positions of those injured in accidents. Items that tend to get used regularly in this regard include:

• Driver histories
• Medical records
• Witness statements
• Traffic camera footage

Going toe to toe with a plaintiff's lawyer probably won't be much fun if you go it alone. After all, they will not have your best interests in mind. The only thing they'll care about is getting their client off. So, put a car crash attorney in your corner and let them prove what really happened.

Contact The St. Pete Lawyer

Do you need an attorney to represent you in a matter surrounding a negligent driver in St. Petersburg? If that's the case, only a reputable and trustworthy professional will do because that is what you deserve. Obviously, there are many choices in the neighborhood, but if you want a respected, honorable, and experienced person on your side, look no further than The St. Pete Lawyer. Contact our office to schedule a free case evaluation with him today. He'll be more than happy to help you determine where your claim stands.