Defective Products Like These Could Leave You Or A Family Member With A Significant Injury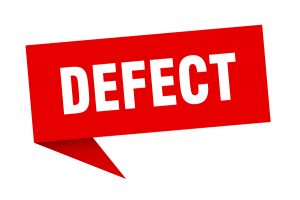 Michael Babboni

Recalls Most people accept that they can get hurt in many different ways. However, the images that usually come to mind are auto or truck accidents, motorcycle crashes, and pedestrian/car collisions. The majority of us probably don't fear household products, but maybe we should. According to PennyGeeks, defective products are responsible for millions of Americans seeking medical attention each year.

That's right, those everyday household items around your home could potentially be dangerous. Calm down; we aren't saying that to scare you, but we would like you to be aware of the situation. Keep your eyes peeled for recalls and stop using products when the manufacturer asks you to do so. Why? Because those actions could save you or a family member a lot of pain and suffering, that's why.

If a defective product leaves you severely hurt, you may be entitled to fair compensation from the manufacturer or seller. The same goes for families who lose loved ones because of defective products. Manufacturers are liable for the harm that their goods cause, so hold the organization responsible for your incident accountable. How? By hiring a personal injury attorney in St. Petersburg to represent you in the matter with the ultimate goal of recovering compensation, that's how. We'll get to who's the best in the area in a bit, but first, let's look at some defective products. 



Pool And Patio Umbrellas

It's Florida; who doesn't have a pool or patio umbrella? No, but really, if you do happen to own one manufactured by Umbrosa, you're going to want to pay attention to this. Umbrosa NV manufacturers umbrellas and arm holders in Belgium, but those units are sold by ShadeScape dealers, resellers, and design professionals in the United States. That means they could be pretty much anywhere, including right here in St. Petersburg.

The units in question are Umbrosa Evolution Umbrellas, which come equipped with Evolution flexible arm/holders. The company is presently recalling approximately 250 of these devices because the elbows of the arms can break. If that happens while the umbrella is in use, injuries could come to fruition. So, please, be careful and research what to do to keep injuries at bay.

Infant Rockers Related To Four Infant Deaths

Okay, St. Pete parents/guardians with infants/toddlers, this section is for you. Fisher-Price is recalling approximately 175,000 2-in-1 Soothe' n Play Gliders and 4-in-1 Rock' n Glide Soothers. Brace yourselves because the reason why isn't pleasant. According to Consumer Affairs, there have been four reports of infant deaths with the 4-in-1 options. There are entirely too many models to list here, so it is in your best interest to research the matter further.

Check out the source we provided or another one. It really doesn't matter where you look or research; just do something. There's nothing to worry about with any luck, but the last thing anyone wants or needs is to lose a child, so do your homework to ensure your kiddo isn't being thrust into harm's way.

Contact The St. Pete Lawyer

If a defective product causes you or a family member harm, please, don't hesitate to contact our law firm. The team will fight tooth and nail to recover the compensation you deserve. Doing nothing could prove to be a monumental mistake. That could leave you or surviving relatives responsible for medical bills, funeral expenses, and more. Our firm has the resources to go toe-to-toe with big corporations.

Meanwhile, Michael Babboni, our personal injury attorney, has the experience and reputation to show the firm you're up against that you mean business. Just remember that if a person gets injured or dies at the hands of a defective product, stellar legal representation is only a phone call away..