Could Your Bed Be A Danger To You?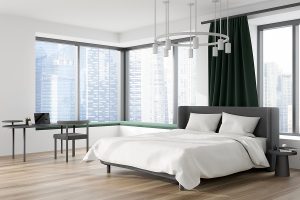 Michael Babboni

Recalls Defective products come in many different shapes and sizes. Some don't do any damage to people or their homes. However, the same can't be said for others. Instead, the items catch homes and cars on fire depending on what's wrong with them. It also isn't uncommon for flawed goods to electrocute or shock those who use them. The point is that there are many ways defective products can wreak havoc on peoples' lives.

And often, the dangers come from unexpected places. For example, the thing we're here to discuss today probably doesn't look all that scary at first glance. You probably shouldn't write off or discredit the seriousness of the situation. Instead, it is probably best to take action immediately to prevent an accident from occurring and one that could leave you seriously injured. So, let's look at the particular issue that has been brought to our attention.

Detaching Wall Beds

Does your St. Petersburg home have a wall bed located in the master bedroom, a guest bedroom, or another room? If that's the case, you should pay close attention to this section. There are currently 182,000 wall beds from Bestar of Canada in circulation that pose threats to consumers. The company has been notified of at least 60 incidents where beds have fallen onto and injured nearby people. Not to mention, there was even an event in July 2018 where a Bestar bed fell on a 78-year-old woman, crushing and killing her. The models in question include:

• Nebula, PUR, Versatile
• Edge, Cielo, Audrea
• Lumina, Orion, and Novello

The Bestar beds were sold in both Canada and the United States. Consumers bought them online from Wayfair.com, Amazon.com, Costco.com, and Cymax.com. That means these units can pretty much be anywhere, including right here in St. Petersburg. So if you think you have one of these products, here's some information: the pieces sold for between $1,650 and $2,200. They were also on the market from June 2014 to March 2022.

It is best to stop using the bed immediately and reach out to Bestar of Canada. An agent must inspect the unit to see if it's safe. If he or she deems the bed to be unfit, it will need to be reinstalled.

Are You Entitled To Compensation?

Manufacturers are responsible for the harm their products cause. So, if you get seriously hurt by a defective product, you might be entitled to fair compensation for your damages. Of course, the company liable for the ordeal probably won't simply cut you a fat check. Instead, the business leader will contact the attorney they use to discredit injury claims. Then, they will pull out all the stops to avoid losing the case.

However, this doesn't have to be the fate in store for you. Instead, you can hire The St. Pete Lawyer to represent you in the matter. Michael Babboni began practicing law in Florida shortly after completing school in 1987. He has practiced civil and criminal litigation over the years. Hence, as you can see, he has the experience and know-how to get the results you seek from a personal injury case.

So, don't delay any longer. Hold the manufacturer accountable for its negligence if a defective bed or another kind of product leaves you seriously injured. Contact our office to schedule a free evaluation with an injury lawyer. During the meeting, the attorney will listen to your side of the story. Then, they will let you know if they'll represent you in the matter. If both sides agree, the team will then get to work building a case that supports your position.