Child Passenger Safety: What You Need To Know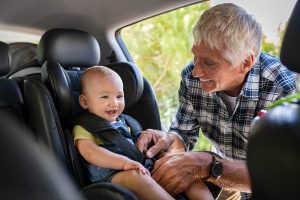 Michael Babboni

Car Accidents Child passenger safety is important and something that we need to take seriously. The National Highway Safety Administration (NHTSA) recommends that children should be rear-facing as long as possible. They should also not go beyond the weight and height limits allowed by the car seat you have chosen.

Once your child outgrows the height and weight limits of your rear-facing car seat, they can then safely transition to a forward-facing car seat that uses a harness and a tether.

Car Seat Checks

If you have a car seat in your vehicle, you can have a Certified Child Passenger Safety Technician in your area inspect it and make sure it is properly installed and safe for your child. There are even some virtual inspection sites you may be able to take advantage of.

Register The Car Seat

All car seats have to be registered. This is done so that if the manufacturer issues a recall on the car seat, you will be notified immediately. Every car seat comes with a postage-paid registration card. All you have to do is to fill it out and put it in the mail. You can also register your car seat online to make sure you are informed of any safety recalls.

Choose The Right Seat

All of this starts with making sure you choose the appropriate car seat for your child. As your child grows, their needs will change, and they will require a car seat that fits those needs. Even a child between the ages of 8 and 12 may need to have a booster seat. To sit properly without a booster seat, they need to have exceeded the height and weight requirements of the booster seat.

Additionally, the shoulder belt needs to lie snugly across their shoulder and chest without crossing the neck or face. The lap belt should be snug across the upper thighs rather than the stomach. Children should also remain in the backseat until they are over 12 years of age.

For younger children, make sure to review the manufacturer's recommendations regarding their height and weight. There are also car seat finder tools online you can use. You simply type in the child's age, height, and weight, and it will show you which car seats are best.

Following An Accident

If you have been in an accident, the NHTSA recommends that you replace the car seat you are using if it was in the vehicle at the time of the accident. This is true for any moderate to severe accident. Doing so helps ensure a higher level of crash protection for all child passengers. However, if it was just a minor crash, you do not need to replace the car seat.

The Importance Of Child Passenger Safety

Child passenger safety and car seat safety measures are important because they provide the best ways to protect our children while they are in a vehicle. Car accidents are one of the leading causes of death and injury for children, and car seats have been found to save lives. This is why there are car seat laws in place in every single state across the country.

However, even with the right precautions, accidents do still happen. If you and your child have recently been involved in an accident and you have sustained injuries, then you may be entitled to compensation for those injuries and other damages resulting from the accident. Contact an experienced personal injury attorney today to discuss your case.