Causes Of Commercial Trucking Accidents And Your Rights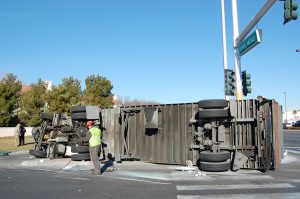 Michael Babboni

Trucking Accidents Florida roads are busy – among the busiest in the nation. With the third largest population in the country and a huge number of tourists visiting every day, the simple fact is that accidents will continue to happen on our roads. And another huge issue – commercial trucks.

A Huge Risk And Big Dangers

Commercial trucks are larger, heavier, and have more mass than the average passenger car. As such, that increased size and weight can cause much more damage to smaller vehicles. The bottom line? When a commercial truck is involved, it means that damage and injuries are much more likely to occur – which in turn means that those who are hurt in a truck accident are often hurt far more seriously than those who are hurt in a more traditional type of accident.

As such, the process of recovering and moving on after an accident of this kind can be far more serious than you realize until it happens to you. Getting physical and financial help after a commercial truck accident is important, and an accident lawyer specializing in commercial truck law can help.

The Common Causes Of Commercial Truck Accidents

There are numerous causes of commercial truck accidents. Some of the most common issues can be surprising – and somewhat infuriating. Here are a few of the main causes of commercial truck accidents.

• Speeding – Far and away one of the most common types of commercial truck accident causes, speeding is an issue that leads to accidents around the country, and in commercial trucking accidents that increased speed can lead to serious accidents.

• Texting Or Distracted Driving – Texting or distracted driving has become one of the biggest risks on Florida roads and on the roads of our entire country. As such, managing distracted driving is a main focus of lawmakers everywhere. In trucking accidents, everything from texting to changing the radio could be distracted driving.

• Driving While Intoxicated – Drunk driving, driving while on drugs, and even driving while using anti-sleep pills can be considered to be driving while intoxicated. This is a huge risk, and something that remains far too common.

• Exceeding Legal Driving Times – The government requires that all commercial truckers operate within the limits of the law. This means that truckers can only drive for a set number of hours and a set number of miles. By exceeding these limits, drivers create increased risk.

These are just a few of the issues that commercial truck accidents are caused by. Each of them can even end up being combined with other problems, and these are far from being the only causes. It's important to remember that depending on the nature of the accident and its cause, you may have the right to seek financial compensation through a truck accident lawsuit.

Knowing Your Rights

Under Florida law, everyone has the right to seek financial compensation if it's shown that their accident was caused by the reckless or negligent actions of someone else. All of the common causes above are some of the best examples of negligent and reckless actions. If you or a loved one was involved in an accident with a commercial truck, you could be within y our rights to seek financial compensation.

Contacting a personal injury lawyer is the first step, and one that you can't afford to ignore. Your attorney will be able to determine what your rights are, identify the right steps to take after the accident, and stand up to the insurance companies and get you the compensation that you deserve. Our team can help. Contact us today to get your free initial consultation and find out more about your rights and how we can help you..