Car Crashes And Why You Should Wear A Seatbelt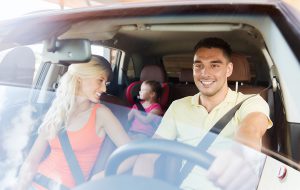 Michael Babboni

Car Accidents The summer weather has arrived, but so has an increase of vehicle accidents as well. It is no secret that driving a car presents its own set of dangers for drivers and passengers alike, it has become a crucial way for Floridians to get around and commute to work. High speed environments like highways are especially dangerous and crashes in these areas are likely to come with severe injuries.

While these accidents are unfortunate all on their own, the results are especially fatal when those involved neglected to wear their seatbelt.

Seat belt laws have existed since 1986, but several drivers still neglect to use them and thus face a much larger risk of injury than their fellow 'seatbelted' drivers. While this may seem like a hassle sometimes, it still remains a crucial way to reduce car accident related injuries and fatalities.

Just take a look at this latest car crash in Hudson, Florida:

In Hudson on May 31st, a woman by the name of Patricia Marie Blacer died at U.S. 19 and Country Club Drive. She had been driving south in the center lane of U.S. 19 at about 10:15 a.m. when she lost control of her Pontiac Grand Am. This loss of control caused her vehicle to rotate and cross the center median into northbound traffic which then resulted in her colliding with two other vehicles. The drivers of the other two vehicles both sustained minor injuries. Blacer was taken to Regional Medical Center Bayonet Point, but unfortunately died later that day.

It is still unknown how or why Blacer lost control of her car. However, one thing we do know is that she was not wearing her seatbelt.

The Importance Of Wearing Your Seatbelt

Though it has not been stated, it is clear that the lack of seatbelt played a role in her death. When you are in a car crash, you are 5 times more likely to be killed if you are not wearing a seat belt.

When you are traveling in vehicle, any of the passengers inside of the car are traveling at the same speed as the vehicle. During a collision, the vehicle will typically be stopped abruptly which means that the passengers will continue to move faster than the halted vehicle. Seatbelts do not stop the passengers, but allows them to safely slow down once the car begins to stop. However, if there is no seatbelt, the passenger will be launched forward causing severe injuries and fatalities.

This is why Florida has strict seat belt laws in order to lower the amount of car accident related deaths.

Florida Seat Belt Laws

In Florida, all passengers under 18 years old are required to wear a seat belt or be otherwise restrained by a child car seat. These seatbelt laws apply to all cars, pickup trucks, and vans operated on Florida roads. It is against the law for anyone to operate a vehicle if all passengers do not meet these standards. If that does not convince you to continue wearing your seatbelt, you should know that the cost for a seatbelt violation for an adult in Florida is $30 and $60 for a child who is not properly restrained.

Within the past few years, Florida has really begun to crack down on people who have chosen not to wear their seatbelts. It used to be that you could only be cited by a police officer for not wearing your seatbelt if you had already been pulled over for another infraction such as speeding. However, now you can be pulled over for just not wearing your seatbelt.