Can You Receive Compensation For A Dog Bite?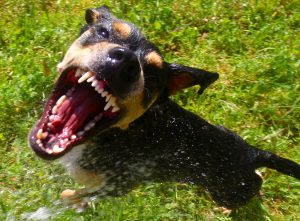 Michael Babboni

Personal Injury When you are bitten by someone else's dog, your injuries can be very severe. Dog attacks are sadly common and account for our one third of all homeowners insurance claims. However, dog bite laws vary from state to state, making this a difficult claim to understand. In the state of Florida a dog owner can be held liable if their dog attacks you, so you can file a claim with their insurance and receive compensation to pay for your injuries.

How The State Of Florida Defines Liability

According to Florida statute 767.04, a dog owner can be held liable for a dog bite: "The owner of any dog that bites any person while such person is on or in a public place, or lawfully on or in a private place, including the property of the owner of the dog, is liable for damages suffered by persons bitten, regardless of the former viciousness of the dog or the owners' knowledge of such viciousness." However, since Florida tends to be a split liability state when it comes to accident injuries, the law also states: "However, any negligence on the part of the person bitten that is a proximate cause of the biting incident reduces the liability of the owner of the dog by the percentage that the bitten person's negligence contributed to the biting incident."

How Does Florida State Law Impact Your Claim?

Since Florida law is clear that in order to receive compensation from the dog owner for your injuries, you will have to prove liability. Proving liability in a dog bite requires the following:

1. You have to prove there was an injury. This will require documentation of medical visits and treatments.

2. You will have to prove the injuries came from the dog that attacked you. This is usually done with a timeline of events and medical records.

3. You will have to prove negligence on the part of the dog owner. There's a couple ways to prove negligence depending on the circumstances of your claim, but ultimately you have to show that the bite occurred because the owner didn't exercise a reasonable amount of care.

What To Do If You Are Bitten By A Dog

If you know what steps to take when you've been bitten by a dog, it will be easier in the long run to receive compensation for your injuries. Here is what you need to dog if you've been attacked by a dog:

1. Seek medical attention immediately. Even if you injuries seem minor, the biting dog may infect you with an illness like rabies.

2. Get all the information about the owner. Whether you are on their property on in a public place, you will need to get their contact information and their dog license number.

3. Contact law enforcement. It's important to file a police report after a dog bite because it can help you prove liability. Plus, if the dog is very dangerous, then it is important that public authorities are alerted so no one else gets hurt.

4. Get the contact information for any witnesses to the dog bite.

5. Take photographs of the injuries, the area you were attacked, and anything else relevant to your injury. Photographic evidence can really help you prove your claim.

Finally, you need to speak to a qualified accident attorney like Michael Babbonis. As experienced injury lawyer, he has helped dozen of people in the St Petersburg area receive compensation for their injuries from a dog bite. The St. Pete's Lawyer understands the complexities of Florida dog bite laws and can help you prove liability and get a fair settlement for your injuries. So if you've been bitten by a dog, give him a call right away to see how he can help!.