Are You Thinking Of Buying A New Car? Read This First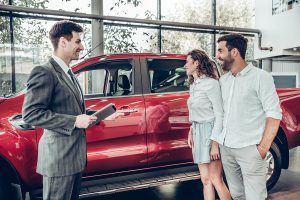 Michael Babboni

Recalls After a while, it just becomes time to trade in an old clunker. People grow attached to their vehicles, so the task is more difficult for some than others. Yet, once a car starts getting too many miles, begins leaving its owner stranded, and requires repair after repair to continue functioning, the individual has to learn to let go. As such, all the consumer has to do is visit a car lot to get the sweet new ride of their dreams.

No longer will they have to worry about being left deserted and helpless on the side of the road. Instead, the person can drive from point A to point B without a care in the world. Heck, with a state-of-the-art model, they can even plan cross country trips. For one, they can be certain that the vehicle gets them there and back without any problems. Plus, the owner won't have to break the bank on gas due to the fuel efficiency of modern units.

Not to mention, new cars have all the latest safety features that a consumer could ever want, like airbags, backup cameras, and more. These aspects are huge draws for many buyers. Why? Well, let's face it, the roadways can prove to be dangerous places. According to driverknowledge.com, 6-million is the average number of auto accidents in the United States annually. That is a substantial sum, so one can't be too careful when it comes to protecting themselves and their passengers.

Numerous Issues Can Contribute To Collisions

People everywhere have been warned about the dangers of texting while driving. Still, though, loads of folks partake in the activity daily. They take their eyes off the road for a brief moment, then, bam, in the blink of an eye, they have rear-ended another car. Citizens also know that drinking or using drugs and operating a motor vehicle can be like playing Russian Roulette.

However, some drivers continue to drive under the influence of these substances. They swerve into other lanes of traffic, speed, and even fall asleep behind the wheel. Many of these motorists wake up in the hospital unaware of the carnage that they caused to pedestrians or occupants of another passenger vehicle. Then again, sometimes, driver error is not to blame. Rather, defective equipment is at fault for the wreck and injuries.

Hyundai is expected to begin recall number 185 on December 27, 2019. This issue revolves around 2020 Elantra vehicles, and there are potentially 744 of them affected. Research from the National Highway Traffic Safety Administration states that the lower control arm fasteners may have been insufficiently tightened during the manufacturing process. In turn, the ball joint could detach from the control arm. During such instances, the driver can lose control of the vehicle, which increases the risk of a crash.

Auto Collisions Are Unforgiving

Regardless of who is to blame, car crashes often leave participants with severe injuries. In some instances, they even claim peoples' lives. Each wreck is unique and different. Thus, damages will vary on a case by case basis. Some common ailments caused by these accidents include but are not limited to...

• Internal Organ Damage
• Partial Or Full Paralysis
• Fractures And Broken Bones
• Traumatic Brain Injury

If Floridians sustain injuries from a manufacturer's negligence or driver's recklessness, they may be entitled to a fair amount of compensation for their damages. Insurance companies and manufacturer legal teams don't like to play fair, though. So, put a proven accident lawyer on your side to fight on your behalf. Our firm practices one thing, and one thing alone, personal injury law. Therefore, the accident lawyer knows the ins and outs of the complex Florida legal system.

The case review is free, so you can find out where your claim stands without having to spend your life savings. Additionally, personal injury claims are paid on a contingency fee basis. In other words, you only pay if compensation is recovered. Don't delay any longer. Instead, get the representation that you need and deserve with our accident lawyer..